A Smash Hit
Want to add more fiber and  cut back on carbs? Try this modern twist on the traditional mashed potatoes this year and combine roasted cauliflower and golden roasted russet potatoes together for this Cauliflower & Potato Smash.
Roasted cauliflower is the bomb. Roasted potatoes are superb.  Mash them together and the result is the ultimate side dish, perfect for any Fall gathering
Roasting vegetables brings out their natural sweetness and the crispy golden roasted bits add to the texture and deepen the flavors.  It is a simple cooking method that requires little preparation and just a little olive oil, salt and pepper to make the perfect side to any meal. Roasting at high heat crisps up the exterior of foods while cooking the interior  slowly.  When roasting several kinds of vegetables at once, its important to cut them to similar size so that they cook at same pace.
I especially like to use this simple method during those crazy holiday prep days.  We need a few uncomplicated dishes to balance the time and energy we put in during those hectic long days in the kitchen preparing special holiday meals.  Lower the load of carbs and skip the mashed potato casserole this year, instead try this delicious earthy blend of roasted cauliflower and potatoes. Your family will love this new addition to the holiday table.
Most people could benefit from getting more fiber into their diet and this smash of 2 veggies will boost your intake of fiber, for sure.   The body needs plenty of fiber to ensure your digestive system works smoothly and efficiently and studies show that consuming higher levels of fiber also help prevent lifestyle diseases.
Women under 50 are supposed to be consuming 25 grams of fiber each day and women over the age of 50, 21 grams of fiber. Just 1 cup of cauliflower gives you 9% of DV and 1 cup of potato gives you 15%DV so with just one heaping spoonful of this Smash, you will be well on your way to reaching your daily requirement.
Cauliflower has become so widely used in recent years as an alternative to grain for those wanting to reduce calories and carbs, its piled high at every store I shop. Next time you go shopping grab a head of  cauliflower and roast the florets as soon as you get home.  I promise you will be amazed at the tender, sweet slightly earthy flavor. Cauliflower is really high in Vitamin C too!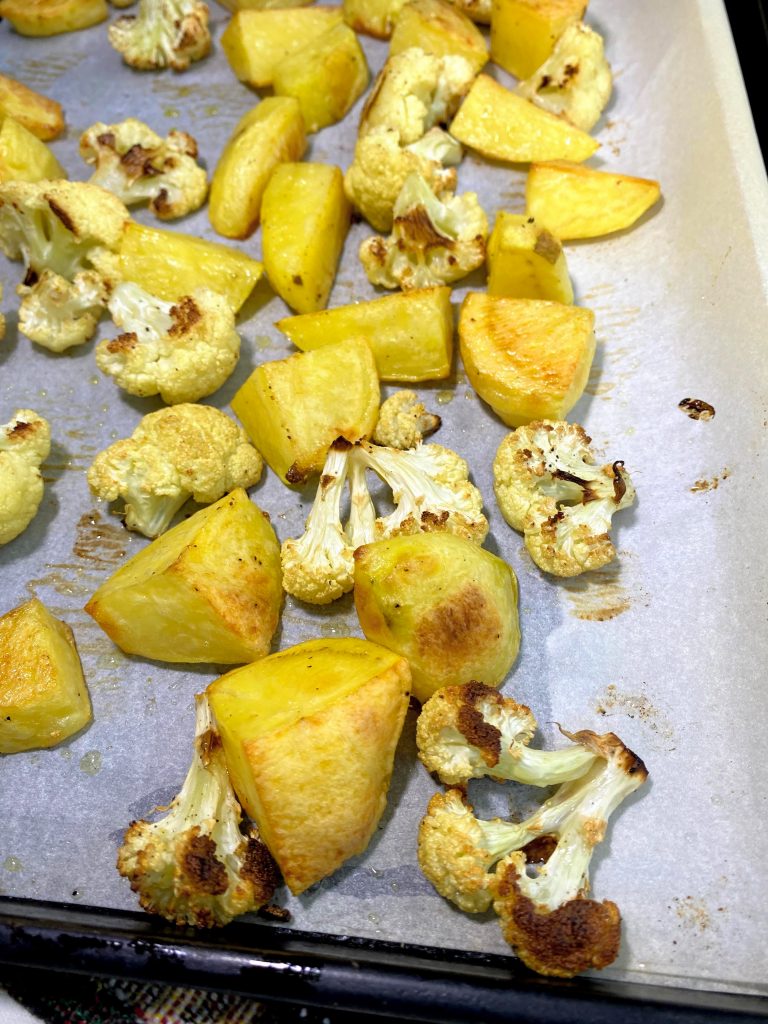 Experiment with a new cooking technique and try roasting your veggies and you will see for yourself how the flavor changes and improves. I'm confident your kids will love them too!
Be sure to let me know how you like this recipe in a comment below.
Cauliflower & Potato Smash
Modern twist on an old favorite combines roasted potatoes and cauliflower for a Smash
November 9, 2020

6-8

50 min
Ingredients
1 lb Cauliflower florets, about 1 small head
1 1/2 lb russet potatoes, cut into 1 1/2 inch cubes
1/4 c olive oil
2 T butter, room temp.
2 t lemon zest
1/2 c shredded cheddar cheese or your favorite
2 green onion, sliced including some green
salt and pepper to taste
Directions
Step 1

Preheat oven to 400º and line 1 or 2 rimmed baking sheets with parchment paper for easy clean up

Step 2

In large bowl toss cauliflower florets, potato cubes, olive oil and salt and pepper then transfer to the baking sheet and spread out to make 1 even layer

Step 3

Roast until potatoes are tender when pierced and browned in spots, about 30 minutes

Step 4

In a large bowl mash veggies with 2 T butter then add zest and cheese and mash some more.

Step 5

Fold in green onion and sprinkle a little on top and season with little more salt and pepper