You must try this!
Make it on a weeknight for the family, take it for potluck in the neighborhood or  double the recipe for a special occasion-no one will believe you made it at home.  I guarantee it will not be the last time you prepare this dish.     The  tender rib eye and  the crisp crunchy broccoli richly glazed with this perfectly balanced  sauce makes you go mmm mmm mmm.  Honest!  I heard those very sounds  last night.
I love this recipe for a couple of reasons:
1. It can be easily prepped ahead and then quickly combined and  sautéed just before serving.
2. The results are amazing!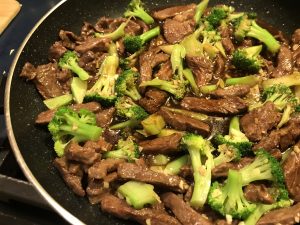 I like to use rib eye steaks  for this dish because the meat is so soft and flavorful.  A less expensive sirloin steak will work well too, but the rib eye takes it up a notch. I have found the rib eye steaks  at Wal Mart and have been very pleased with the  price and quality  of meat at my local.  The  Asian grocery store sells the rib eye steaks as well, in fact,  buy lots of meat and fish  and the Asian grocery because I find smaller portions and a better variety of  cuts of the meat I need for asian dishes.
You may be surprised to hear me suggest buying meat at Wal Mart but my experience with beef, chicken and pork has been great.  I have found it to be high quality and equal to what I find elsewhere and very reasonably priced.   On the other hand, I do not even walk near the fish at any Wal Mart.
I am a fan of the Panda Brand Oyster Sauce  and always have it on hand.  It is essential in this dish and with this as the base a quick brown sauce is very easy to make by simply adding water in equal amounts to the oyster sauce.
Try it and be sure to  tell me what you think…
Beef and Broccoli
Ingredients
1 lb rib eye steak
1/4 tsp salt
4 C broccoli florets
4 scallions , mince white portion and cut green portion into 1 inch pieces
2 cloves minced garlic
1 1/2 T minced fresh ginger
1/3 C soy sauce
1/4 C packed dark brown sugar
3 T oyster sauce
Marinade for beef: 2 tsp cornstarch and 2 tsp soy sauce
Serve with white, brown or jasmine rice
Directions
Step 1

Bring a large pot of salted water to boil.

Step 2

While waiting for water to boil, cut broccoli into uniformly sized florets. These can be cut into smaller pieces before combining with beef if desired Note: This step may be done the day before to cut down on prep time

Step 3

Slice steak thinly against the grain and trim of fat then season with salt. Allow to sit while you combine cornstarch and 2 tsp of soy sauce. Pour the cornstarch mixture over beef and mix together thoroughly and set aside for at least 30 minutes.

Step 4

Once water comes to rolling boil add the broccoli and parboil about 1 minute. Drain and run under cold water or put into ice water bath to stop the cooking.

Step 5

Combine the soy sauce, brown sugar and oyster sauce in a jar or small bowl and shake or mix thoroughly and set aside.

Step 6

Heat large skillet over high heat.

Step 7

Add 1/2 the beef and cook for about 1 minute until browned then flip to brown the other side for 1 minute. Transfer to a plate then cook the remaining beef

Step 8

Reduce the heat to medium low

Step 9

Return the first batch of beef to pan and add ginger, garlic and minced onion. Cook til fragrant about 30 seconds then add the sauce to the pan.

Step 10

Add the broccoli to the pan mix together and allow the sauce to thicken slightly. About 1 minute.

Step 11

Serve with your favorite rice.