Try turning your leftovers into tasty Chinese restaurant style fried rice
Typically my refrigerator is quite full of food.  Either its chock-full of ingredients to prepare new recipes or it's overflowing with leftovers.  I find it a challenge to use those leftovers in interesting new ways.  They turn into soups, pizzas and strange sandwiches most of the time.
If you have leftover white or brown rice, fried rice is the ultimate way to transform it into another great tasting  meal for your family.
Folks that are not accustomed to eating steamed rice as a staple may find this technique more appealing.  Stir frying adds more flavor and fragrance to plain ol' white rice and goes over well as a side dish or the main entree.  This version has a distinctly Chinese style flavor and different from my previous post for Fried Rice  which is more Japanese style.
Cooking the vegetables and meat, in this case, hotdogs, separately ensures everything is cooked to perfection.  Although it appears as if everything is just thrown into the pan it is actually difficult to keep everything from getting soggy and overly "sauced" if you just dump it all in at the same time.
In order to try to keep calorie count to a minimum and clean up as easy as possible, I use a nonstick pan and as little oil as possible.  I started with browning the hotdogs to get a nice char then add just a little more to the pan to ensure the eggs cooked quickly and did not stick because things can still stick to a nonstick pan.  The flavor from the meat mingled with the eggs but if this idea turns you off just clean the pan quickly before cooking the eggs.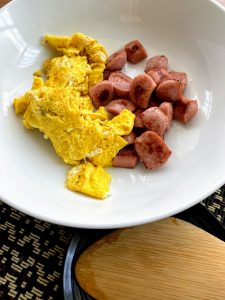 I used ketchup in the sauce to make a mild and slightly sweet glaze to the rice.  If you like a more bold stronger soy sauce taste, leave out the ketchup and use simply the oyster sauce and soy sauce.  Just these 2 ingredients results in a thicker saltier version but tastes like you just picked up carry out.
Oyster Sauce  originated in China and is used liberally in Chinese cooking and frequently turns up in Thai sauces.  It is a thick dark brown condiment consisting mostly of soy sauce and oyster extract but surprisingly has no hint of oyster or fishy smell whatsoever.   Oyster sauce is available at Asian markets and most American grocery stores.
Chinese Fried Rice
Got leftovers? Try turning them into this tasty meal for your family
Ingredients
3-4T vegetable oil for frying, divided
3 c precooked leftover rice
2 eggs, slightly beaten
2 hot dogs, halved lengthwise cut into 1/2 inch pieces
1/2 onion, chopped
2 cloves garlic, 1/2 c cooked broccoli florets or peas
Sauce:
1/4 oyster sauce
1 T soy sauce
2 T ketchup
1-2 t Sriracha(optional)
Directions
Step 1

Warm leftover cold rice in microwave about 30 seconds to loosen to make it easier to fry then set aside

Step 2

Mix sauce ingredients together and set aside

Step 3

Heat 1 T oil in 12 inch frying pan to medium high

Step 4

Add hot dogs and sauté until nicely brown then remove to a dish. Reheat pan and pour eggs into pan and allow bottom to cook until set then scramble gently and remove to the dish with hotdogs

Step 5

Wipe the pan clean and reheat 2 T oil and heat pan to medium

Step 6

Add onion and sauté about 1 minute until opaque and fragrant but not browned, then add garlic and cook til fragrant about 30 seconds

Step 7

Add rice to pan and mix and press to loosen rice as much as possible and mix thoroughly with onion and garlic

Step 8

Add eggs and hotdogs to rice and then your cooked broccoli or other vegetable

Step 9

Add sauce and mix thoroughly with rice