Make smarter snack choices
Things are warming up around here and I have seen more of the sun lately so you know what that means. Shorts, tank tops and eventually, bathing suits.  If you have been eating your way through lockdown, there is no time like the present to start eating smarter so that you can squeeze into last year's swimsuit.
I'm sure I am not the only one with their work cut out for them.  The last couple months have been hard to deal with in too many ways to count and many of us have found little to do with the time on our hands but eat (and drink).  That is, once the stores were better stocked.  Now, as we slowly venture out of our homes we have to face the music, or buy a new wardrobe.
If you have been cooking, baking or eating like me, you will need to get ahold of yourself and get outside or dust off  your home gym and start making smarter choices.  We are not out of the woods yet, but as we are able to get out a little more often to a few more places you are going to need to wear something other than jammies.
Moderation is key
You can't go wrong with protein and vegetables.  I guess you can go wrong if you eat too much of them.  Overeating anything, even vegetables and protein, can make you feel sick and crappy.    There is such thing as too much of a good thing.   It is important to be mindful of what you are eating and drinking.  Going out to eat, or ordering carry out as we must do now, is often a struggle when faced with gigantic plates of food.  The portion sizes at most restaurants are often enough for 2 people.  Just because all that food has been served to you doesn't mean you must clean your plate. Why should you feel guilty about leaving some or taking it home for another meal?
I recently ordered carry out dinner from a local Italian place.  I decided on a meal which was supposed to serve 4 people and I included 1 appetizer and 1 dessert.  We were all full after our dinner and we shared the one piece of tiramisu between the 4 of us.  After that first meal there was enough food leftover to accommodate 8 more plates.   Amazing, right?
Get outside and exercise
Maybe you were one of those highly motivate folks that finally got into a regular routine. Well keep it up! You have jumped the highest hurdle in my opinion.  I get going well for a few weeks and then something happens to disrupt my pattern and I realize its been 3 weeks since I exercised last.  Then I'm back  to where I started. Huffing and puffing and not wanting to "just do it".
During nice weather I love to go walking,  Now even more than ever, it feels great to get out in the open and breath deep.  The air seems fresher. The grass greener and the sky bluer. Is it just my imagination?
Whatever you do just start out with baby steps.  First day out walk for 20 minutes or try a Tabata routine.  My new favorite!  I really like this form of HIIT (High Intensity Interval Training) workout because the exercises don't have to be strenuous, the workout doesn't have to last more than 20 minutes and no equipment required.  You gotta start somewhere and little by little you will get stronger your endurance will improve and you will feel better about yourself.
Now that you are focusing on eating better and getting more exercise I have a delicious snack idea to include in your new routine.   Try this low carb, high protein ricotta cheese dip with fresh or steamed veggies or a few crunchy pita chips.   Ricotta and parmesan cheese combine to make this dip rich and creamy with a hint of spicy pepper.  Top it off with a drizzle of olive oil and a bit parmesan and broil until you get that golden brown.  Serve this immediately for best flavor.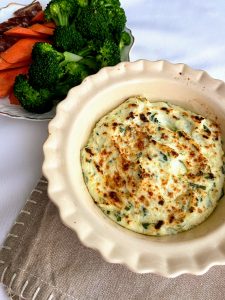 Low-Carb Ricotta Cheese Dip
Try this very speedy snack dip next time you are looking for a healthy alternative to queso or ranch.
Ingredients
1 (15oz)carton ricotta cheese
1/3 c fresh flat leaf parsley, chopped
1/2 t red pepper flakes
1/4 c parmesan cheese plus 1 T to top
1/2 t salt
1 T olive oil
raw or blanched veggies for dipping
Directions
Step 1

In medium bowl mix ricotta, parsley, pepper flakes, salt and 1/4 c parmesan

Step 2

Transfer mixture to ovenproof baking dish (quart size). Drizzle with oil and sprinkle parmesan on top.

Step 3

Broil on high until top turns brown about 3 minutes