What do cabbage, radish and herring have in common?
They make fabulous pickled dishes!
Pickling began in ancient times as a means to preserve food. It was and still is practiced all across the globe and very recently the fermentation of foods and beverages is on the rise due to the popularity of kombucha drinks and scientists are beginning to grasp the unique health benefits of probiotics.  I am sure you have heard of Korean kimchi, German sauerkraut and Scandinavian pickled herring.  The most impressive thing about this ancient process is that the nutritional value of the food is preserved as well, and in many cases, the fermentation process increases the nutritional benefit of the food by improving the gut environment.
In Japan there is a seemingly endless variety of pickled foods preserved in numerous ways. The naturally fermented soybean product, miso paste, may be the most well known. Preserved and naturally fermented foods promote good health, aid digestion and studies show they may contribute to longer life expectancy.
Did you know that the oldest woman in the world lives in Japan?  Kane Tanaka lives in Fukoka, Japan and turned 117 years old last January.
Food as medicine
This is a belief that strongly resonates with me and influences how I cook and provide for my family.  I try to incorporate a variety of fruits, vegetables, fish and non-meat protein into our diet on a weekly basis. It is also quite common for me to use foods and other naturopathic medicine to treat minor illness or injuries in our home.   Tea liberally laced with honey to sooth sore throat and stuffy noses than over the counter cough or cold medicine is one simple example.
I enjoy learning how food can assist in the healing process and helps maintain good health.  I love to cook and study Asian food and ingredients because in these cultures, the individual ingredients are as important as the final product.   The liberal use of colorful vegetables, herbs and spices appeals to me on many levels.  The typical Asian diet is plant based, low in animal fat with a very limited amount of processed foods and are among the healthiest in the world.
This quick pickling recipe below is not truly pickling the vegetables but rather more like a salad dressing or side dish, called sunomono in Japan.  I always call them pickles due to the vinegary tartness.  I particularly love these types of salads as it is a very creative way to add 1 or 2 more vegetables to the dinner table any night of the week.
Which type of cucumber is best for pickling?
There are several different variety of cucumbers available in most of the markets near me.  I usually steer clear of the common large waxy coated American variety.  The skin is inedible and the seeds are large and need to be removed which requires more work than necessary.  Most often I  buy the pre-wrapped mini cucumbers or what is called Persian cucumbers in my Asian market.  I have also used the kirby cucumbers which do have a thick skin, but I find them more flavorful than the larger more waxy coated variety.
The long individually wrapped English cucumbers are tasty but I tend to run into the same problem of skinning and removing seeds when using them so I don't buy them very often either. When you make these pickles use the cucumbers that you like and that are available to you because no matter which variety you pick, you can't go wrong.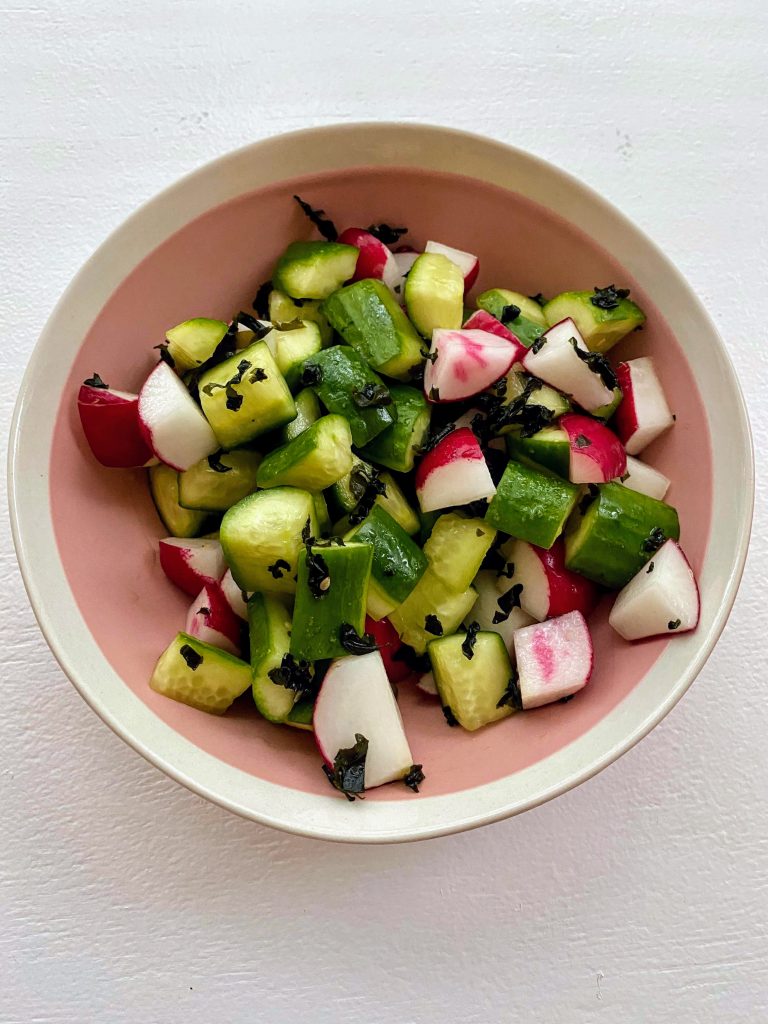 Dashi is the basic stock used in Japanese cuisine
Much like chicken bouillon cubes it can be purchased in Asian markets in the form of instant granules.  It is also sold in a pouch or bag that you steep in hot water.  Real foodies may try making it themselves by simmering water, konbu, a type of dried kelp, and dried bonito flakes.
If you cannot find instant dashi powder, it is possible to make these quick cucumber pickles without it; however,  you may need just a little more salt or lemon to balance the flavors better.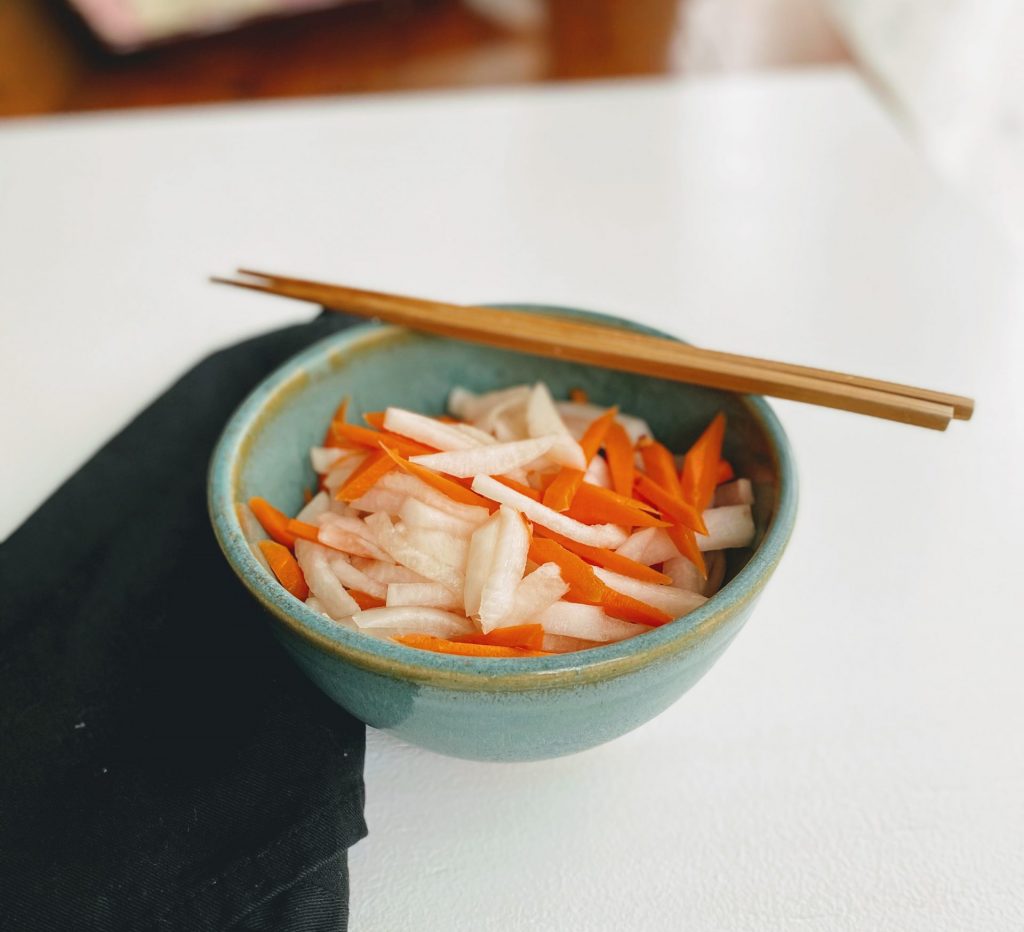 Daikon radish is a long white dense vegetable used widely in Japanese cooking and one of the most versatile.  Used in soups, salads and as garnish for plates of sushi  and very commonly seen in the form of takuan the yellow pickle served with sushi meals.
Daikon is used for its flavor and texture and definitely not nutritional value as it is 95% water. Crunchy when raw and when cooked it retains some body so great when added to soups.
Select firm daikon with shiny undamaged  skin and always peel and discard the outer skin. The raw vegetable keeps well in the fridge for couple weeks
The type of vinegar most often used in dressed salads and pickling is rice vinegar; however, I got a hot tip from my mother- in-law years ago that works superbly and cuts down on prep time.  She taught me to use sushi rice vinegar when making sunomono because this vinegar already seasoned with salt and sugar cuts down on prep time.
There is a vast variety of pickled foods in Japanese cuisine, preserved in all sorts of ways, but vegetables most commonly pickled are cucumbers, daikon radish, Chinese cabbage and eggplant.  In Japan, a meal isn't  complete without pickles on the table and sometimes a meal consists of simply rice, miso soup and small plate of pickled vegetables. Rice and pickles are to the Japanese what bread and cheese are to the French.
You can pull this quick cucumber salad dish together in 15 minutes or less so try it and bring a few more fresh veggies into your life.   Don't forget to let me know how they turn out in the comment box below.
Quick Japanese Pickled Cucumbers
A refreshing accompaniment to almost every meal.
September 26, 2020

20 min
Ingredients
1/4 c seasoned rice vinegar/sushi vinegar
1/4 c water
1/8 t instant dashi powder
1/8 t salt
1 T fresh lemon juice
2 Persian cucumber
Directions
Step 1

Combine first 5 ingredients together then set aside

Step 2

Cut ends off cucumbers (peel skin if thick) then slice thinly

Step 3

Put slices in a colander and sprinkle with salt and let stand for 10 minutes

Step 4

Rinse with water and squeeze to remove as much liquid as possible

Step 5

Pour pickling liquid over cucumbers stir to cover and serve

Step 6

When storing leftover, pour off the liquid and keep in airtight container. Keeps 1 day
Here are the brands that I like to use when I make my quick pickles