There are hundreds if not thousands of different ways to make curry
Strangely enough the first time I ate curry was while I was living in Japan. Many folks may be surprised to learn that curry rice is a very popular dish in Japan and I'd go so far to say that it is a common meal in the average Japanese home during winter season. Although the Japanese version is much milder than the typical Indian, it was still strange to me and not a meal I ate heartily.
On the other hand, I have a unique ability to adapt to new and strange flavors so now,  I very much enjoy and appreciate Japanese curry, Thai curry as well as Indian curries, all of which have their own unique blend of spices and ingredients and taste nothing at all alike.
Many Americans  may also be surprised to learn that there is no pre-mixed  curry powder sold in India.  Most families blend their own spices to create something specific to their tastes or that of the region they live.  In America blended curry powders consist of the following core spices in varying amounts:  coriander, fenugreek, turmeric, cinnamon, cardamom, cumin and chili peppers.
The word curry means sauce, or gravy and does not refer to any specific dish or type of preparation.  We tend to envision a stew like presentation consisting of meat and vegetables served over rice but this is a limiting view, there could be hundreds of different types of curries.
Add Spice to Your Life
One reason I love to eat curry is because of the variety of spices and herbs that are used to create the gravy, or curry sauce. I am very interested in the medicinal qualities and health benefits of food and curry sauces tend to include lots of ingredients  known to promote good health. There tends to be large quantities of legumes and vegetables in most curries which, of course, are beneficial for us too.
One of the core spices in particular, turmeric, has become more and more intriguing to me.  Turmeric is a rhizome resembling ginger with bright orange-yellow color. Use of turmeric for medicinal purposes goes back thousands of years.
Turmeric is a remarkable herb
A key ingredient in curry powder and commonly used in Asian cuisine, turmeric is easily identifiable due to the bright yellow chemical, curcumin.  The flavor is bitter and somewhat peppery. It smells as distinct as its bright yellow-orange color.
Turmeric has long been used in Ayurvedic and Chinese medicine to treat a wide variety of ailments such as digestive issues, joint problems and pain relief to name a few.  In recent years as increasing numbers of Americans search for alternative treatments and more natural means of treating disease there has been more acceptance of these ancient techniques to address health concerns.
The results of thousands of scientific studies conducted in the U.S. have backed up what has long been known in ancient cultures and found that turmeric has unbelievable health promoting qualities. I found Spice up Your Protection by Dr. Christine Horner on her health blog, filled with fascinating details on the benefits of using turmeric to protect against breast cancer and other types of cancer.
It's Tea Time
Turmeric's anti-inflammatory effects make it a good choice for treating arthritis and psoriasis.  In fact, it is often used in beauty products to tighten skin and reduce inflammation related to acne. It is easy to add a little turmeric to your life by boosting your smoothie, juice or morning tea.  You may want to ease into using spices in your food prep if you are not familiar with many of them.  I recommend you try this delicious turmeric herbal tea: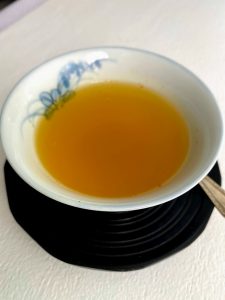 1 c boiling water

juice of 1/2 lemon(1T)

1/4 t turmeric powder

1/2 t ginger powder

1/4 cinnamon

1 T honey
To store fresh turmeric root, seal in plastic bag or tub with tight lid in fridge for 2-3 weeks. I have heard the root can be frozen but have not tried this myself.  I would suggest peeling it first to make it easier to use when you need it.  Turmeric in powder form should be kept in an airtight container in a dry dark place away from heat.
Spice up your life and give your system a boost, try this bold looking but mellow flavored beef curry.  Make it an adventure and play some Bollywood music while your family enjoys this exotic international dish.  Don't forget to leave me a message and let you me what you think of color, the aroma and the flavor of this simple curry.
Beef Curry and Vegetables~Mild
Tomato paste and honey are used to mellow the flavors in this beef and vegetable curry.
September 13, 2020

4

1 hr
Ingredients
3T Curry powder
2 t honey
2 T tomato paste
1 t cornstarch
2 t salt
2 lbs beef stew meat
1 c broth (vegetable, or chicken)
1 onion, large dice
2 carrot rolling cut
1 celery sliced on diagonal
1 lb small white potatoes, halved
Directions
Step 1

In small bowl combine curry powder and salt and set aside. In the measuring glass add cornstarch to broth and stir to dissolve and set aside

Step 2

Add 3 T oil to dutch oven and set heat to medium high, when hot add stew meat to pot. Brown one side about 3 minutes depending on size then turn to opposite side and brown 3 minutes. When meat is browned remove use slotted spoon to remove from pan. Add little more oil and sauté onion until very soft about 5 minutes. Add curry powder mixture to onion mixture and stir well to combine.

Step 3

Add meat and any juices back to the pot, carrots, potatoes, broth and tomato paste and bring to low simmer for 20 minutes or until vegetables are soft. Serve with Basmati rice or pita bread