Hooray Bees! We appreciate all you do and the liquid gold you produce!
September is National Honey Month and we want to show our appreciation of Mother Nature's sweet golden liquid by detailing the benefits of honey and highlight the numerous ways you can bring honey into your meals any hour of the day.
Here are a few fun facts about bees you probably did not know:
A bee only lives for 1 month during peak season, longer during winter
Bees actually have 4 wings not 2
That buzz you hear is the sound of 11, 400 strokes per minute
1 bee produces 1/12th of a teaspoon of honey in its lifetime
1 tablespoon of honey is the life-work of 36 bees
Bees dedicate their lives to making honey because they need honey to survive. It provides them with the fuel they need to fly around to the 50 – 100 different flowers they visit on one nectar collecting job.  Thankfully a hive will produce way more honey than the hive needs in order to  survive so that enables beekeepers to remove the excess without traumatizing their ecosystem.
For more facts and loads more interesting information about beekeeping and bees take a look on line at the American BeeJournal.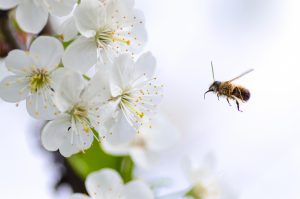 September marks the end of the honey collection season in the U.S. so this month we celebrate the harvest!  The National Honey Association designated this month to celebrate  the hardworking bees, promote the American Beekeeping Industry and the honey they produce as a natural sweetener.
Honey is a recipe made by the flowers, bees and Mother Nature 
More and more honey is being recognized as a pantry staple. The main reason being that natural honey is sweeter than sugar which allows you to use less to achieve more.  You need about 1/2 as much honey as granulated sugar to attain the same level of sweetness.  No wonder more and more people are choosing honey over sugar.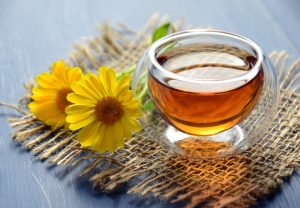 Not only is honey naturally sweet and delicious but it has long been used for medicinal purposes in cultures all over the world.  Honey will effectively sooth a sore throat or ease your cough.  It is a well documented antibacterial and has been proven to heal infections and reduce scarring. Only raw unpasteurized honey should be used for healing rather than the pasteurized honey most readily available in grocery stores.  The heating process destroys the enzymes in the honey which is the source of the powerful healing effect.   Look for raw honey in the organic section, any natural food store or order it online.
How sweet it is!
Honeys from different kinds of flowers have distinct flavors. It's fun to experiment to find which you like best and see if you can determine a hint of the type of flower the nectar came from.  On the other hand, you can leave out the guessing all together and go for richly flavored infused honey.
Last year during my trip to the annual Mother Earth News Fair, I purchased several bottles of raw honey infused with flavors crafted on a farm in Pennsylvania by the name of  Huckle Bee Farms.  They specialize in producing raw honey infused with the flavor of fruits, flowers and other more exotic ingredients such as chocolate or bourbon and even more intriguing  jalapeño! Use infused honey the same way you normally would for a boost of flavor to your cup of tea, baking or cooking.
Tell me, do you warm up your breakfast muffin so that you can slather butter or honey atop it? Ever drizzle honey over you pancakes?  Scarf down the basket of warm bread and  sweet butter served at restaurants while you wait for your meal to arrive?  If any of these situations ring true for you, could be  you love both butter and honey as much as I do.   I beg you to try any or all of this recipe that combines both.  I can't get enough of it and it is as simple as can be-just 2 ingredients.
Honey Butter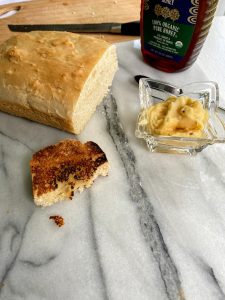 6 T  butter, at room temperature
2 T favorite honey
Mix these 2 ingredients together to combine thoroughly, add little salt if desired.  Serve on anything and everything and chill any unused portion.
Love honey morning, noon and night and want to show the bees how much you appreciate their efforts? Be sure to try more of my wholesome and hearty recipes with honey in them like Homemade Granola and use your favorite flavor.  Just be sure to leave me a comment and tell me where you get your honey and your favorite way to eat it.
Be aware that although honey is made naturally by bees, it should not be given to infants or babies under 12 months of age due to the risk of botulism. It is a rare occurrence  but it's best you don't take the risk with a little one in your care.
Honeyed Carrot Coins
Nutritious and super quick side dish that goes with just about anything
Ingredients
4 medium carrots
3 T honey
1 T fresh lemon juice, half 1 lemon
1/2 fresh lemon zest, half 1 lemon, salt to taste
Directions
Step 1

Bring 1 inch water to boil in a medium pot

Step 2

Add carrots to pot and boil until fork pierces easily, about 5 -10 minutes depending on thickness, then drain

Step 3

Combine honey, lemon juice and zest together in small jar or dish and pour over carrots to coat

Step 4

Sprinkle with salt if desired and serve
Hearty Granola Bread
Go easy on yourself and let the bread machine do the kneading then pop the fresh dough in the oven to bake and you've got a perfect loaf of homemade bread.
September 6, 2020

1 loaf

1 hr 30 min
Ingredients
2 c bread flour
1/2 t salt
2 T butter
2 T honey
1 beaten egg
1/4 c milk
1/2 c hot water
1 1/2 t active dry yeast
1 c crushed granola
Directions
Step 1

In your bread machine place all ingredients except granola order in 1 1/2 lb machine then select dough setting

Step 2

Prepare 1 loaf pan by greasing bottom and sides with butter or crisco

Step 3

After machine beeps 1st time add granola or after about 20 minutes of kneading in machine add granola then allow to finish kneading. Dough will  rise in bread machine once then remove from machine and place dough in prepared pan and cover with clean towel to rise a 2nd time about 20 minutes

Step 4

Preheat oven to 350°

Step 5

Bake for about 25 minutes or until bread is browned and makes a hollow sound when tapped

Step 6

Allow to cool in pan for 10 minutes then loosen sides with a knife and turn loaf onto a wire rack to cool another 15 minutes or so before slicing

Step 7

Top with honey butter!