Eat Well Every Day  Live Well Every Day
Have you ever eaten rhubarb?
I cannot get enough of it lately.
Today I want to share  another really great dessert recipe from our family cookbook.  I use our family cookbook fairly often and each time it brings me just a little closer to the extended family most of whom still live in the Midwest.  Now that my daughter, Mia, is living and working there in her first professional job I get even more nostalgic when she tells me about her life there.
I lived in Michigan when I was a child. Coincidently, I used to live just 20 minutes from where my daughter is now living and working.  Life can be strange like that.  In fact, life can be strangely comical when you consider how much changes from one generation to the next in this crazy world.
Last fall I was driving to Michigan to visit Mia in her new home.  It was supposed to be Ken and I on the trip, but my father-in-law had fallen ill and wasn't sleeping or eating much so Ken stayed in VA. to help his parents.  My mom came along with me on the road trip to Michigan.
I remember she was thrilled to spend so much time with me.  It was a long trip for 2 ladies with weak bladders and by the time we actually got to MI the car was silent and we were both passing the time reading billboard signs and license plates.  "Look at that guy from Nevada.  That's a long way, huh?"
As we got closer and closer to Detroit there were more and more billboards and finally my mom asks me, "What's Canahbus?"
"It's pronounced Cannabis and it's marijuana.  It's legal here so we are going to load up on gummies and lozenges, sublingual drops and whatever else they sell to help Dad sleep and eat so, get ready."  Her reply was something along the lines of
"I haven't ever done that before. How exciting."
I honestly had no idea when I started talking about rhubarb it was going to lead me back to that long drive to Michigan.  It also reminds me that Sea Salt Caramel edibles in your coffee are a really great way to stimulate your appetite.
Rhubarb is actually a vegetable that is more often treated like a fruit.  It is commonly found in pies, cakes and jams occasionally  together with strawberries.  The stalks are long and fibrous much like celery and like celery, rhubarb is also a great source fiber.  The leafy part of the vegetable is not edible and it is not sold in stores with the leaves still on it.
Rhubarb is Low Cal, Low Fat, High Fiber and Cholesterol Free
You will find the loose red stalks in among the rest of vegetables at your local supermarket but they are seasonal so definitely not going to find them all year 'round.   I have seen them bright red, light red with some green and found some stalks mostly green with a little red.  Hint: the greener the stalk is the more sour it tends to be.
The stalks themselves are stiff and crunchy.  I have never heard of anyone eating rhubarb raw but I read on Wikipedia that it can be eaten that way.  We tried it so I could tell you about it.
Don't do it.
Ken said, "it was like eating a weed with lots of lemon on it."  I thought it tasted like lemon-flavored chalk.  We both spit the uncooked rhubarb into the sink.  Blech!
When stewed or baked with sugar both the weedy flavor and the chalkiness go away and the intense tartness is smoothed out and balanced.  An added benefit to including a little rhubarb in your diet – I heard from a reliable source that it helps with keeping you regular. If that is a problem you suffer from it cannot hurt at all to give rhubarb a try.  Personally, I prefer to try natural remedies for common ailments before visiting a doctor. Who wants to talk about that with just anyone, right?
Aside from all the benefits of rhubarb, the very best part about this cake is the shortbread cookie crust on the bottom.  The crunchy buttery crust makes it somewhat difficult to cut a perfectly straight piece but it is so deliciously perfect in this cake, it is hard to keep from going back for seconds.
I added a crumbly topping  to the original recipe just to make it more like coffee cake because let's get real, who doesn't love coffee cake?  The cake is good without the nutty crumbly topping but going to that little extra effort with the topping to make it a great cake is well worth it.
For my crumb topping I used pecans for a little crunch but you can leave them out if you are not nuts about nuts.  Swap them with walnuts if that is what you have on hand.  I am always in support of minimizing waste so use what you have on hand rather than trek out to the store.
I bet you did not know that the average U.S. household tosses out almost 30% of the food they have bought because its expiration has passed or simply spoiled. Isn't that shocking?  Think about how much money that is and about all the folks that have too little food.
Here are just a few tips that may help you keep your food edible longer and save you money in the long run
5 Tips to keep food fresher longer
Transfer dry foods to airtight containers as soon as the package is opened.
Freeze flour for 48 hour and it will kill any insects that have snuck into the bag.  Then transfer to airtight containers.
Store fresh mushrooms in a paper bag to absorb moisture and avoid the slime
Remove celery from plastic bag and store in Tupperware or foil to keep it fresher longer
Store asparagus in a bowl or glass with water at the bottom to keep stalks
Shop smart and resist buying more than you need
While I was experimenting with rhubarb over the course of the last few weeks I was relieved to discover that rhubarb keeps well and maintains it's freshness in the vegetable drawer of the fridge for a couple of weeks.
The vibrant red rhubarb is one of those vegetables that is so uniquely different it inspires you to try it again and again.  I don't know too many vegetables that provoke that kind of reaction so you may want to give this one a try just to see for yourself.
Try my family recipe for Rhubarb Delight and tell me what you think or share it with a friend who loves rhubarb!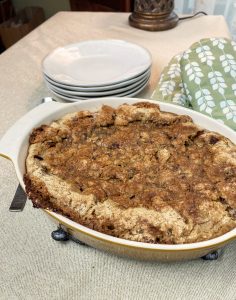 Rhubarb Delight
Tartly flavored rhubarb cake is sandwiched between a crunchy buttery crust and the perfect crumble topping
Ingredients
1 c flour
1/4 c powdered sugar
1/2 c room temperature butter
2 c rhubarb sliced into 1/2 chunks (about 4 stalks)
2 eggs
1 1/4 c sugar
1/4 c flour
1/2 t baking powder
Topping:
4T butter softened
1/4 c flour
1/4 c brown sugar
1/4 c old fashioned oats
1/4 c pecans, chopped coarse
Directions
Step 1

Preheat the oven to 350º

Step 2

Use a pastry blender to mix 1 c flour and powdered sugar with 1/2 c butter to a resemble coarse crumbs

Step 3

Pat into the bottom of a 8×8 casserole or 2 qt casserole dish and press firmly and evenly using the bottom of a small glass

Step 4

Bake in the oven for 15 minutes

Step 5

Meanwhile use clean fingers to mix the ingredients for the topping to resemble wet sand then set aside

Step 6

Beat the eggs together then add sugar, 1/4 c flour and baking powder to combine well then stir in the rhubarb

Step 7

Remove crust from oven then spread rhubarb mixture over it evenly

Step 8

Sprinkle crumbly topping evenly over the cake and bake for 40 minutes or until set and toothpick comes out clean.