A Wedding in Italy
I can't think of a better excuse to travel to Europe.
Our friends had to postpone their wedding in Italy because of Covid concerns.  But no matter when they decided to hold the nuptials nothing was going to stop us from attending that wedding.  It was going to be my first trip to Italy, indeed my first time traveling to Europe and I was not going to miss out on the adventure.
Before leaving for Italy we received all sorts of travel advice especially in regard to pickpockets.  We spent a considerable amount of time developing a plan to prevent being victims.    Fearing my large handbag would be targeted, I took a tiny a purse which dangled in front of my belly button.
No one was going to bump into me without my taking notice while it was hanging right there.  Only problem was I could barely fit my phone into it.  I was able to slide my phone inside, along with a couple house keys, a few folded euros and 1 credit card.
Whenever we left the apartment we always separated the money, credit cards and keys between us so we wouldn't be stranded in the unlikely event one of us got robbed.  We left our passports inside the airbnb and I had left my most valuable jewelry at home.  I am proud to report that we were not victims of pickpockets.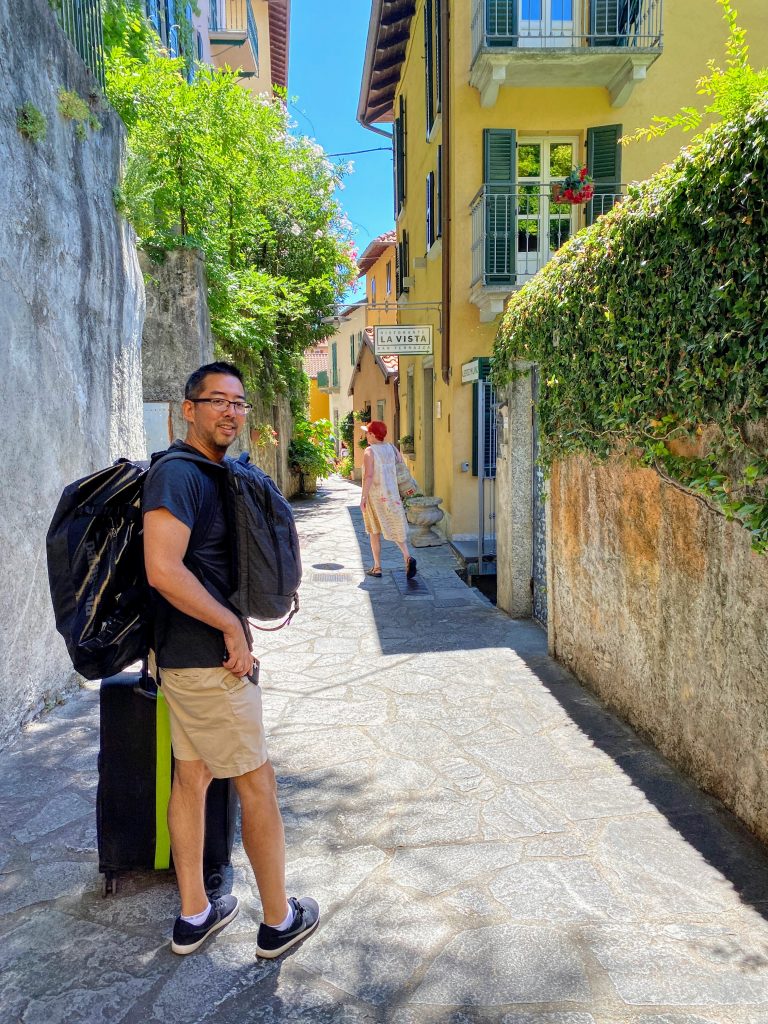 We were victims of theft, however. Specifically, I was a victim of luggage theft.  In Central Milan Train station while I was focused on the ticket kiosk purchasing a train ticket to Lake Como, my luggage was simply rolled right away from me.  All of my belongings and clothes for the wedding!
Ken had our passports and all his clothes were with him strapped to his body.   Smart guy.  Without my suitcase, my head immediately filled with an image of us attending the wedding with him looking handsome in a suit and me in my clogs and the same dress I'd be wearing for days.  My body broke out into a sweat and tears threatened.  On second thought, he may look more creepy than handsome without his pants which were in my suitcase.
We headed to find the police to report the stolen bag but now I'm really starting to sweat because "I got robbed" was not part of my Italian language Youtube lessons.  Then another image popped into my head, one of me at my friend's beautiful Italian wedding in my dirty dress with stains at my armpits.
On the way to the police station I was scanning the halls and corners looking for someone plundering my bag.  Purposely we had wrapped a green neon strap around the entire thing so it was easily identifiable.  Not 5 minutes had passed and I spotted it! Right in the middle of Central Milan station sat my abandoned bag with the green neon strap still intact. It did not appear to have been tampered with at all but then Ken had also thought to use a lock on the zipper.  Smart guy, right?
I went to collect it and mentioned to Ken how kind Italian thieves were to leave it in the middle of the station so I could find it so easily.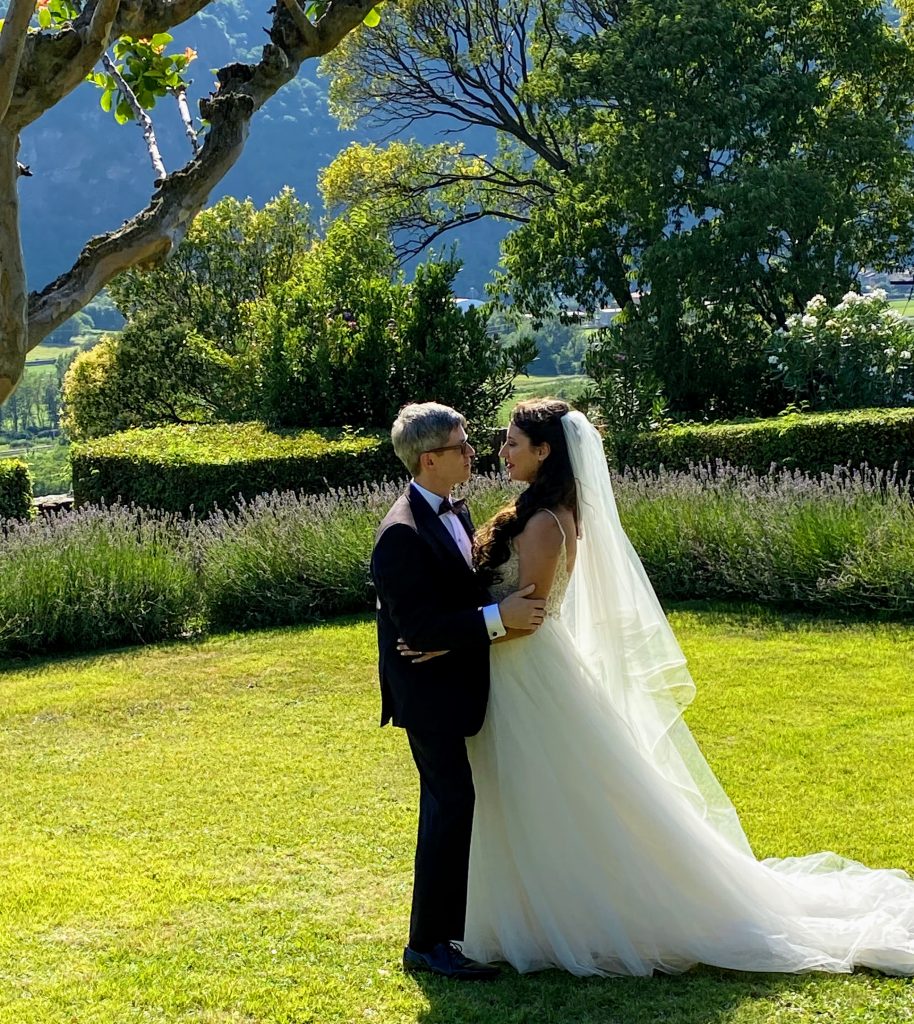 What I loved most about Italy was the natural beauty of the land and unbelievable scenic views all around us.  We spent 4 days in Ravenna on Lake Como and it was like walking through picture postcards all day everyday.   Milan and Turin are both larger cities with lots of tourist attractions, not unlike New York,  but somehow more exotic because we were in Italy after all.
Where Do Early Birds Eat in Italy?
There is lovely, relaxing outdoor seating at restaurants and cafes everywhere you go and the weather was fabulous while we were there so we took advantage.  I heard that they were experiencing an unprecedented heat wave this year.  It was hot but without the humidity of a Virginia summer we felt comfortable, especially under the shade of a wide umbrella with a glass of refreshing Italian wine and an aperitivo.
If you have any interest in traveling to Italy be sure to study the rules and common practices related to food.  Restaurants are not open all day or even most of the day like we are used to in the U.S.  Some restaurants are open only for breakfast which is really not the type of breakfast most Americans expect, but espresso/cappuccino and pastries.  Some open from 11-3 or so, for lunch and then restaurants that serve dinner don't open until 7pm. So, where do the early birds eat in Italy?
The Piedmont region where we were traveling is well known for the variety of seafood available.   It was usually prepared without much fuss and after sampling quite a bit of it, I can honestly say it is superbly fresh and their preparation focuses on bringing out the best of the fish. Both shellfish and mollusk seem to be abundant in this part of Italy and, therefore, we ordered it frequently.  So deliciously soft with a taste of freshness beyond compare.
For the most part we used public transportation to get around town.  You can purchase a daily, or up to 3 day ticket and use it to access  street cars, trains and buses anywhere you go within that region. We found it to be very convenient and inexpensive once we got the hang of it.
You Have Arrived
I do not recommend driving in Italy.  It was frightful from the passenger seat, yet somehow Ken found it exhilarating which made it even more frightening.  Google maps works very well overseas but the street signs did not seem to correspond to the map. It took me awhile before I discovered the signs posted on the sides of buildings but it was usually too late to make the turn.
It was a relief when we finally found a parking space where we could easily fit our vehicle and made a beeline for a cafe.  Unfortunately, it was after 11am and too late for cappuccino,  but it is my belief that anytime is the right time for a cold crisp glass of Italian wine.
Italy seems to be the hottest vacation destination this year.  I know at least 4 families that chose to vacation in Italy this summer and you may not care about them but I read the Kardashians and Brad Pitt were there too!
It is easy to understand why tourists have chosen Italy. The landscape is majestic,  the people are friendly and welcoming despite the large number of meandering tourists that do not speak Italian everywhere you go.
The cost of living is reasonable and the food is simple but excellent.  Italian menus consist of  lots of pizza, but not loaded pizzas like we have in the states.  Small individual pizzas with a just enough toppings to make it interesting. A wide variety of primi pasta dishes (of course) and depending on what type of restaurant you chose typically an assortment of secondi, meat and fish options.  As well as a selection of a la carte items to balance out your plate.  And have I mentioned the wine yet?
It was a grand vacation and truly my most memorable to date. It was a holiday to enjoy "the simple life" with spectacular postcard views and lots of uphill treks towards either a castle or a church. I will forever be thankful to our friends for giving us the best reason in the world to visit.    It was a pleasure to meet their family and friends and taking part in our first ever Italian wedding reception.
The memories from our trip will linger and just thinking and writing about the sites and food and lifestyle has me yearning to go back again soon. Until then, I am going to continue practicing my Youtube Italian language lessons. There is so much more to see and eat!
Have you traveled to Italy or want to go one day?  Let me know where you would hold your ideal destination wedding overseas in the comments section.   I read them all.
Until next time.
Arrivederchi!