I spent the day at the National Museum of the Marine Corps today with my two favorite guys.
My son, Kai,  is on leave and spending time at home for the first time since he was assigned to his duty station in California last year.    He thought we might like to go together while he's here so we squeezed it in before the snow that was  on course to hit in the late afternoon.   Most  of the government is shut down and the museums around the Mall have all closed doors but those museums that are not funded by federal money are open and the National Museum of the Marine Corp falls in that category.  It is located in Triangle, Virginia  and open everyday except Christmas according to the website.
This museum is  a lot bigger than it looks from the outside but still feels smaller than the average museum and I say that because my feet did not hurt after hours of walking! The museum and exhibits are not just about the details of  historical battles and past wars but about the courage and honor of the men and women that fought in them.  I highly recommend taking time out one weekend and tour this Museum dedicated to  the Marine Corps.     The exhibits were interactive, engaging  and very impressive.   It wasn't just me that found the place interesting either. There were lots of young people there actually looking at the exhibits and not their phones!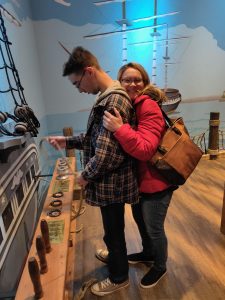 I will say in all honesty that lunch at the museum was impressive too.   You just don't expect much when it comes to a museum cafe or restaurant.  The Tun Tavern  is modeled after the colonial tavern known as the birthplace of the marine corp and was a pleasant surprise.  There was lots of stone and wood, low ceilings and dainty colonial size tables that gave off a homey vibe.  The 1/2 pound Militia burger Kai ordered disappeared rather quickly and my fish and chips came out perfect.   I don't know why I always want to order fish when we go out because more often than not it is disappointing but the fish tasted fresh and batter was light and crispy.  I especially enjoyed the remoulade sauce.
We finished our tour as one might expect, in the gift shop. T-shirts and magnets, mugs and toys and lots of books about marines and books written by marines  but I found this one and couldn't resist.
A cookbook with recipes from Marine families and friends 
and the proceeds will go to the Injured Marine Semper Fi Fund.
First recipe I am going to try is the Cookie Casserole!
It was a great day all around and I am so pleased Kai suggested this trip and that he wanted to go with us.