Has this intense Summer heat got you feeling cranky not to mention sweaty?
I don't want to go outside or even get near the stove on a day like this, so what will it be for dinner tonight?
May I suggest a couple of super savory Shrimp Salad Open-Face sandwiches?
Perfect for a simple summer supper or slightly fancy lunch with the ladies.  This splendid shrimp salad is ideal on a hot muggy day and served along with a crisp tangy bean & corn salad you will rest easy on a full stomach without heatin' up the kitchen or dialing for doordash.
I have been in a culinary slump lately and haven't felt like cooking much so we have been eating a lot of sandwiches.  This is a serious slump because sandwiches are not on my list of favorite foods.  I do enjoy the kind of sandwich that comes on a bun (especially a potato bun) and I know very well that you can put anything you like on a bun but that still doesn't make it a "go to" meal for me.
Ken loves making and eating sandwiches for any meal and the more condiments the better the sandwich.  Needless to say, he has been very content lately and I would guess that he hasn't noticed my slump.  Maybe he thinks he is finally getting the attention he deserves after all these years.
On the other hand, I do enjoy salads on sandwiches.  I love to eat egg salad, tuna salad, chicken salad or even a chick pea salad sandwich.  Shrimp salad, of course!  Ham? No, thank you, ma'am!   Not sure what it is about ham salad but it absolutely does not appeal to me.

I don't use condiments in part because I prefer to taste the individual components rather than a mouthful of saucy mush but most of all  I cannot tolerate a drippy sandwich.  Additionally, I avoid condiments because of an underlying concern for the extra calories.
As a woman approaching AARP age, I have to be more conscious than ever about the nutritional value of the food I eat. I do not like to count calories so it has been my practice to allow myself a little of something I want to satisfy  that craving.  A handful of potato chips or half a brownie or a very thin slice of cake.   This technique has worked well for me in the past but may not be ideal for everyone; however, more and more I find that I need to be more vigilant when I find I am wanting just 1 more handful of those chips.
It's not easy to alter the way you think and feel about food but as we age our bodies change and behave differently so we are forced to make changes along with it to maintain good health or prevent a health crises.
After the traumas of Covid-19, I don't think there is a person in the world today who hasn't taken a good hard look at the way they live and wondered whether there isn't something that they could be doing to take better care of themselves.  They may not have done anything about it but at least they have wondered.
Here are a few easy ideas to start to take those first few baby steps toward better health choices.
Dietary Guidelines
eat a wider variety of nutritious foods (vary color, shape and texture)
eat plenty of whole grains, fresh fruit and vegetables
try legumes (peas and beans)
avoid saturated fat
start a regular exercise program
eat foods with sugar in moderation
avoid processed foods -generally things that are packaged
Especially during intensely hot days like we have been experiencing in Summer 2022 it is important to drink plenty of water.   Drink fluids and water throughout the day.  Water will help you feel fuller which will help you avoid snacking and keeps your body healthier in the long run.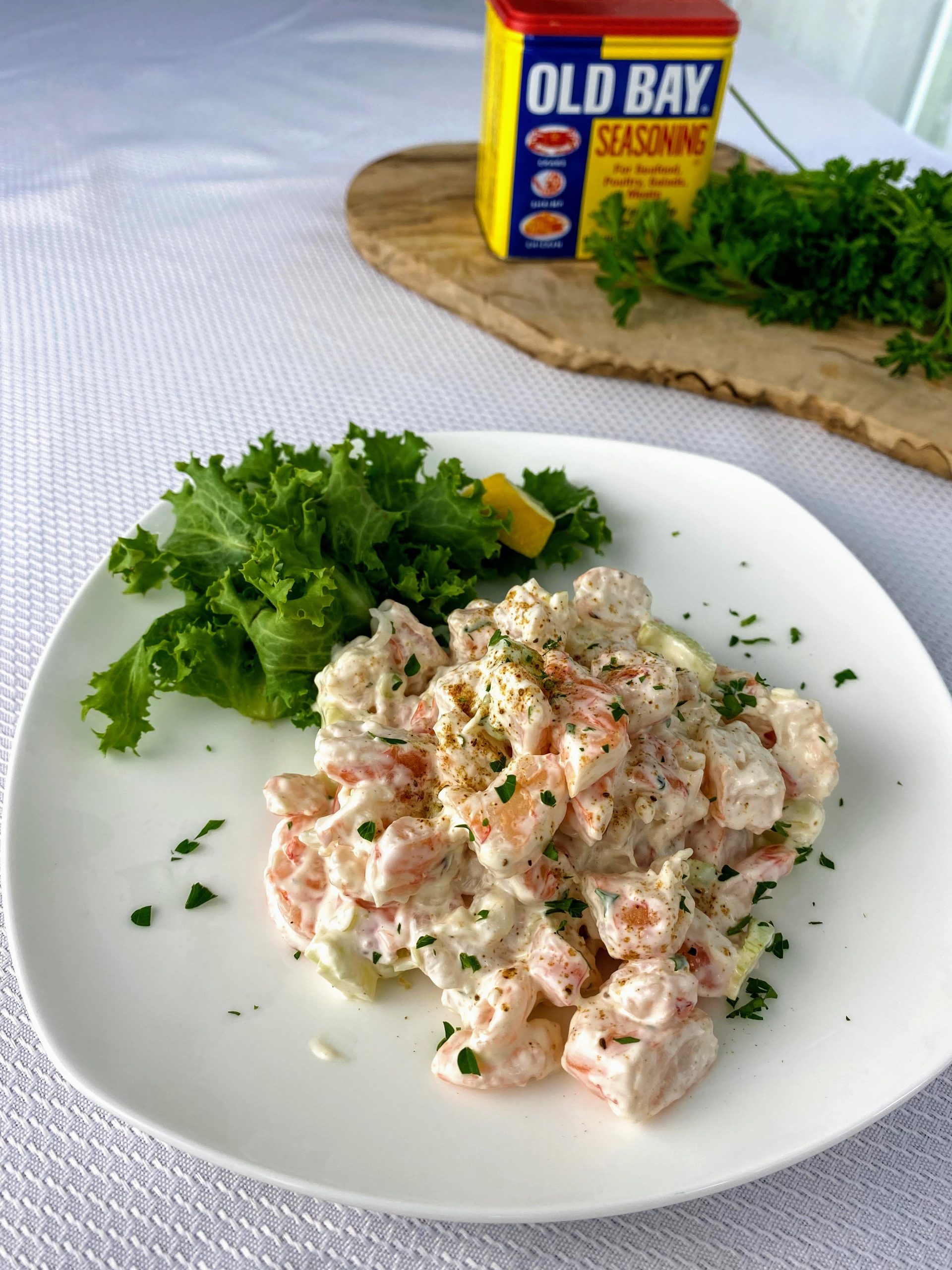 Fresh or Frozen for Shrimp Salad
I use frozen pre cooked shrimp (40/60) and my salad turns out great most times. There are bound to be differences in taste depending on where the shrimp is sourced.  Sometimes, and I think you will agree that the shrimp itself tastes a little bland after being frozen because who knows how long that package has been in the store freezer.
I believe you are going to get the very best flavor using fresh food whenever possible.  When buying frozen, I suggest using good quality shrimp and I do not recommend using canned shrimp for this recipe, or truly any recipe if I am being honest.
When things cool down a little and you move back into the kitchen I have another shrimp recipe you may want to give a try. If you love shrimp or simply love sandwiches like Ken,  I know you will agree my Broiled Shrimp Burgers are out of this world good.
But don't even think about forgetting the spicy remoulade sauce for this recipe.  It is what knocks these burgers out of the park! You may even want to double that recipe to spread it on every other sandwich you make.
Tonight take my advice and don't turn the oven on. Mix up this cool savory shrimp salad for dinner, scoop a large helping on top a slice of bread or inside a tortilla wrap if you are counting carbs and calories.
Be sure to leave me a message in the comment section below and tell me what you think.  I read every message.
For this recipe you need: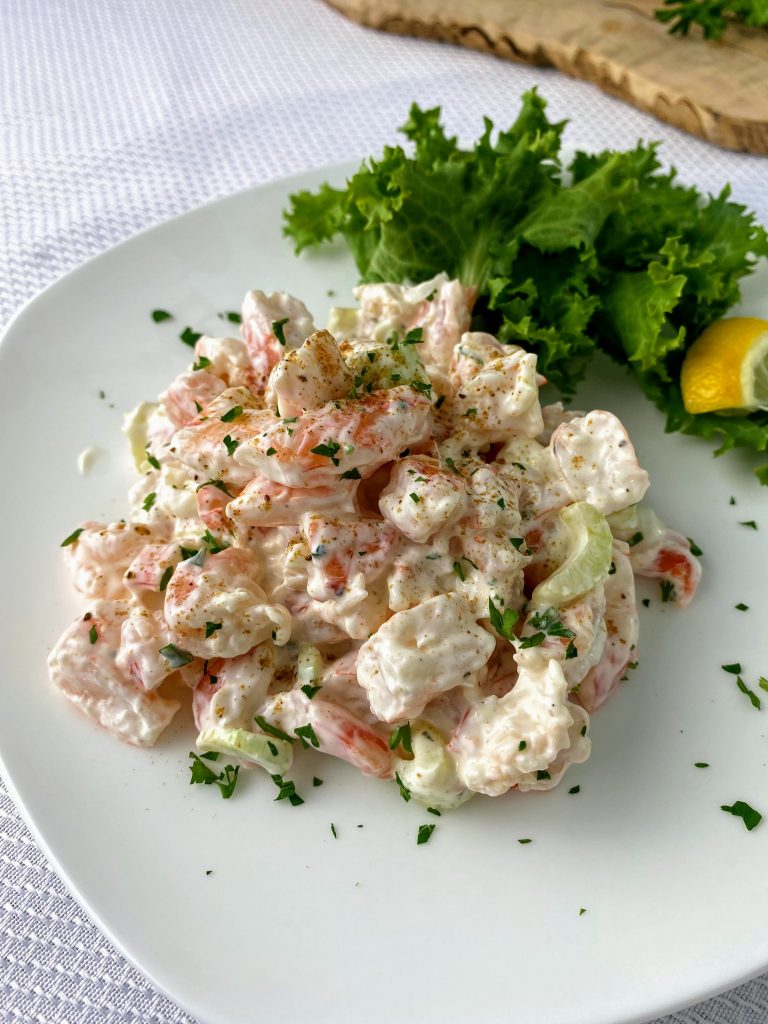 Scrumptious Shrimp Salad
Pile this savory salad atop a slice of your favorite toasted bread and be prepared for the mmm mmm mmm.
Ingredients
1/2 lb cooked shrimp, peeled, deveined and chopped coarsely
1 celery stalk, sliced thin
1 green onion, chopped including green portion
2 T fresh parsley, chopped (optional)
1/2 c Hellmans mayonnaise
1 T Yum Yum sauce
1 t Old Bay seasoning
Directions
Step 1

Mix together mayonnaise, Yum Yum sauce and Old Bay seasoning then set aside. Combine shrimp and vegetables then add mayo mixture and stir well. Sprinkle a little more Old Bay on top salad and chopped parsley if using then serve on top your favorite toasted bread or fold into a tortilla wrap.