Have you tried sushi yet?   I'm sure you have because it is everywhere you look!  Who hasn't tried at least a cucumber roll?   The seaweed which wraps the roll and keeps everything together is a show stopper for many but if you can get past that you may just find yourself  going out for sushi on a regular basis.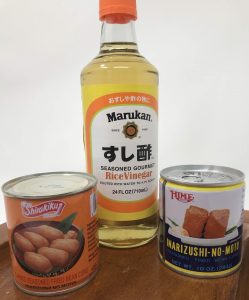 Sushi in the U.S. often comes as a fancy dragon roll covered with a spicy sauce or tempura roll drizzled with a special sauce.  California rolls are very popular too, even on the East coast!    We are fans of a more pure form of sushi – ideally a version where you can actually see and taste fish.
Most people believe that the word sushi means "raw" fish; however, sushi refers to the vinegared rice which accompanies the fish or any item on top the seasoned sushi rice, mixed with the sushi rice or even surrounding the sushi rice.  Which brings me to one of my family's favorite type of sushi – inarizushi.  I have seen these in grocery stores and restaurants lately much to my surprise and delight.  The outer pouch is made from seasoned deep fried tofu which has been sliced to form a pouch and then stuffed with  "sushi" rice.  It takes some time to get used to handling the delicate tofu bags  but the effort is well worth it.
Sushi Pockets Recipe
Ingredients
3 cups short grain japanese rice
1/4 - 1/2 cup seasoned vinegar
1 can seasoned fried bean curd pouches (20 pieces)
Directions
Step 1

Cook rice according to package instructions

Step 2

Drain liquid from can of tofu pouches then put pouches into saucepan with about 1/2 cup water. Add just enough water to warm and loosen the pouches from each other as they get packed in tight. Set the heat to low and allow them warm up slowly then off the heat. Gently loosen the pouches from each other then drain the water and allow to cool in the pan

Step 3

When rice is done, scoop all cooked rice into a large wide bowl or low sided serving dish. Sprinkle small amount of the vinegar over the rice then immediately use a rice paddle or rubber spatula to gently mix the rice and vinegar together

Step 4

Repeat sprinkling small amounts of vinegar over rice while continuing to gently mix the vinegar together with the rice

Step 5

Ideally the rice cools slowly while absorbing the vinegar and the gentle mixing evenly distributes the flavor to produce the perfect sushi rice. If you have someone to help nearby call them over and ask them to fan your rice while you do the mixing.  We use paper plates when we can't find an actual paper fan. Fan the rice don't refrigerate it!

Step 6

Taste the seasoned rice and add more rice vinegar if needed

Step 7

Once the rice is seasoned to your taste, take one pouch and open gently then use a fork or spoon to stuff the pouch with about 1/4 cup of rice. Fill to the top then place open end down on a large platter. The pouches are delicate and the technique requires some practice. You may lose a few pouches but keep at it!

Step 8

Continue this process until all pouches are filled

Step 9

Eat immediately

Step 10

These do not need to be refrigerated and will keep for up to 2 days covered in wrap