This recipe comes from Around the Table and happens to be  my very own mother's original recipe.  She always uses nuts and tells me that helps to make a nice perfect slice when cutting into the bread.   I don't mind pecans or walnuts in bread but my kids never liked them so when they were around I never added nuts to my baking.
Now while they are away at college and other fun exciting places I can get crazy and add nuts to anything I like!
Try Mom's recipe and leave me a comment so I can pass it on to her.
Pumpkin Bread
September 7, 2018

2 loaves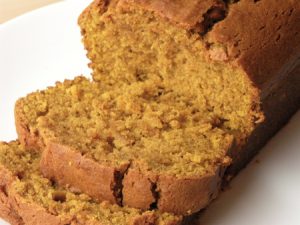 Ingredients
3 1/3 cup sifted flour
2 tsp. baking soda
1 1/2 tsp salt
1 tsp cinnamon
1 tsp nutmeg
3 cup sugar
1 cup walnuts
4 eggs
1 1/2 cup pumpkin
1 cup salad oil
2/3 cup water
Directions
Step 1

Preheat oven to 350 °

Step 2

Combine flour, baking soda, salt, cinnamon, nutmeg and sugar and nuts

Step 3

In a separate bowl combine slightly beaten eggs with pumpkin, salad oil and water

Step 4

Pour all at once into dry ingredients

Step 5

Blend lightly to combine ingredients thoroughly but don't overmix

Step 6

Grease 2 loaf pans and bake for  about 1 hour.