Whip up this triple chocolate bundt cake in minutes.
It's quick.
It's simple.
It's divine.
It's a really piece of cake!
Sometimes you need a great dessert but don't have time to get to the store. When you find yourself in a funk and only a chocolate fix will heal your soul.  This is the cake that will solve all your problems.
The homemade whipped cream is an additional bonus and fabulous with this fudgey cake because it's so fresh and creamy and not too sweet, unless you make it sweet because you are in charge of how much sugar is added.
I make most everything from scratch. Yes, even cakes when I can, but sometimes I need something unexpectedly and in a hurry.
This recipe comes in very handy when the kids tell you at the last minute they need to take a cake for girl scouts or to the sleepover, etc.   I still get those last minute requests although not so very often these days.
Along while back, my kids got spoiled and got into the habit of expecting to have  something for dessert each night so not only do I have cake but I keep a few boxes of pudding too because even an 8 year old can mix up instant pudding, right?
Perfect for just about any occasion
Thank goodness old habits die hard and I still keep a couple boxes of cake mix in the cupboard for the unexpected baking emergency.  Honestly, just the other day I found myself in need of a birthday cake and this decadent cake fit the bill perfectly.
I prefer the Betty Crocker Devils Food Mix but any box cake will do.  Plain old moist chocolate may not turn out quite as decadent as the more intense devil's food but kick it up with a fudgey chocolate pudding to balance it out.
In desperation I have even made this cake with a box of moist white cake mix and then added 1/3 cup of cocoa powder.  It came out very well just be sure to mix the dry ingredients well and smush any clumps so that the cocoa blends well throughout the cake.
This cake and whipped cream can be ready in about 60  minutes total so don't wait for that last minute request and go get your bundt pan now!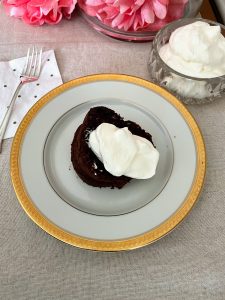 Devilishly Dark Chocolate Cake
Ingredients
Cake: 1 box Betty Crocker Devil's Food Cake Mix
1 3.4 oz box instant Chocolate Fudge Pudding
1 3/4 c buttermilk or whole milk
2 eggs
3/4 c chocolate chips (mix of semi sweet, milk and dark chocolate) Whipped Cream: 1 c whipping cream
2 t powdered sugar(more if desired)
Directions
Step 1

Cake: In large mixing bowl add cake and pudding mix and use a wooden spoon to mix with buttermilk. It will be a very thick batter

Step 2

Add eggs one at a time and and mix thoroughly then add chips.

Step 3

Grease a 12 c bundt pan thoroughly and use a heavy duty spatula to put mixture into bundt pan.

Step 4

Bake at 300° for 45 minutes or until toothpick or bamboo stick comes out clean. Whipped Cream: Pour the cream into bowl of  electric mixer and set to medium high and whip.  Add sugar and whip for approximately 3 minutes or until peaks form.   Serve with whipped cream or ice cream