Love tofu? Me too!
Tofu is not just for vegetarians anymore. Made from the curd of soybean milk, this popular non-meat protein is widely used in Asian cultures as their diets commonly consist of less meat than the average American's diet.  These days it is common to find a little tofu on almost every restaurant menu.   It's time for you to jump on the bandwagon and grab a carton! 
Crispy outside and delicately creamy inside this fried tofu with sweet and sour chili sauce is absolutely one of my favorite things to eat.  Make it as a fancy appetizer or cook up some rice and make it a simple meal.  Either way you are going to wonder why you have been avoiding tofu for so long. Seriously, you will!
Still haven't tried tofu?
This is the perfect  recipe to make your first foray into the world of the bean curd.  Look for tofu in the produce section of just about any grocery store and you will typically find 3 or even 4 different consistencies.

Soft/Silken
Use soft silken tofu if you plan to serve it as a stand alone dish with a light sauce or simple garnish.  Silken tofu is the most commonly used in Japanese style miso soup.  Soft, or silken tofu has the most delicate taste and a custard-like texture and needs to be handled with care as it breaks very easily.   No need to take care; however, if you plan to use it in a smoothie and this is the type you want to use to get the smoothest creamiest texture. Soft or silken tofu is also drained and crumbled in place of mayo or other creamy condiments to make dips and sauces.
Firm/Regular
Most versatile all purpose tofu. If you are considering  buying tofu but don't know how you will use it, it is safest to use medium firm or what may be called regular tofu.  Strong enough to use in soups, stews or frying but soft enough to replace silken tofu if necessary.  Not quite as smooth as silken variety but not as grainy as the extra firm.
Extra Firm
Use extra firm if you plan to marinate or grill your tofu.  This type of  tofu does not need special handling and expect the texture to be fairly coarse and not delicate at all.
Shelf Stable Boxed Tofu
On the shelves in the International aisle or the one where you find curry paste, soy sauce and asian noodles, you may find tofu sold in a shelf stable box. This is the main type of tofu sold on Amazon. If this is the only option available in your area, go ahead and give it a go.  However, if  your store sells tofu refrigerated and packed in water, make this your first choice.
I usually stay away from the shelf stable brands because they seem to be a poor substitute for the fresher tasting water packed version.   If the water packed tofu is not available where you live, then by all means use the box but be aware that these are not the best tasting tofu on the market.
Techniques for Using Tofu:  It may be necessary to drain, press or dry the tofu before you begin marinating and/or cooking. Here a few techniques that you may find helpful:
Drain ~    Pouring off water from the package; allow tofu to sit on a thick layer of paper towels
Press ~    Drain the water from the package then wrap the entire block in paper towel then place on top of a                cutting  board.  Place a heavy plate or cookbook on top the tofu.  Rest for 20 minutes, changing paper towels if        necessary.
Towel Dry ~ Similar to pressing but slice tofu first into large slabs or 1 1/2″x1 1/2″ squares then lay atop tick layer    of paper towel use another towel to press the top of sliced tofu to soak up excess water before frying.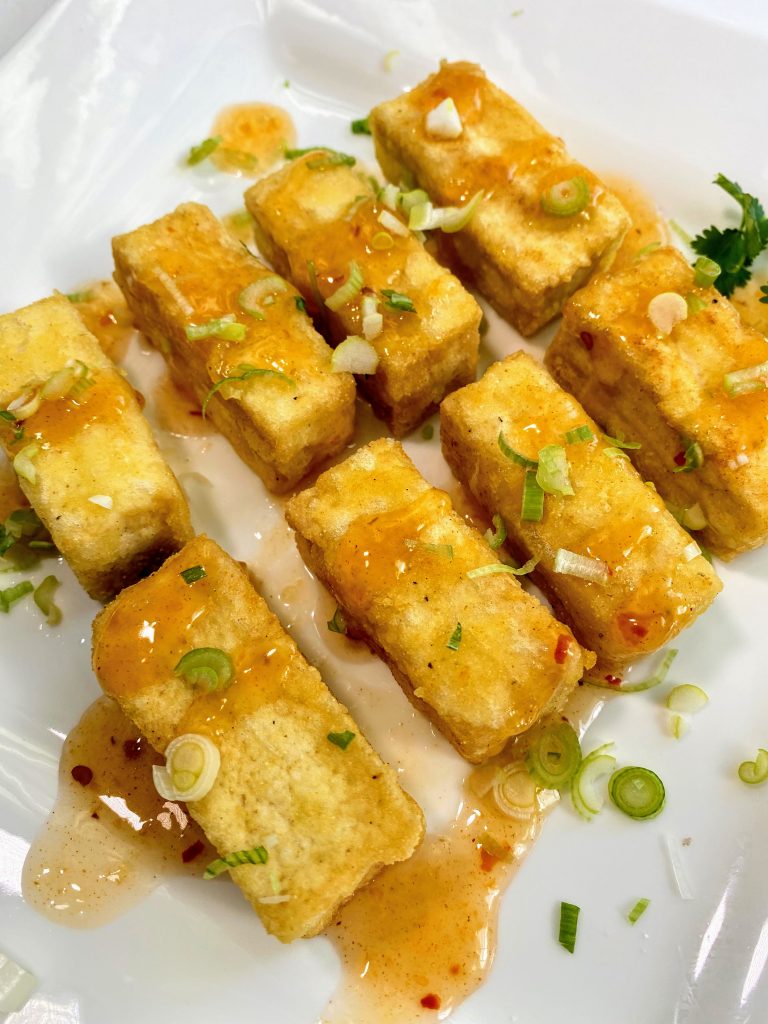 Is tofu really good for you?
There has been controversy regarding the health benefits of soy in past years; however, according to the most comprehensive research of soy products, scientists, doctors and nutritionists agree that eating food in its closest to nature form is key to reaping the most benefits for your health.  On the contrary, taking supplements made from chemical compounds that imitate soy, or any other food, may be detrimental to your health.
All natural soy products such as miso, tempeh, tofu and edamame (soy bean) are some of the healthiest foods on the planet and the regular intake of natural soy is linked to consistently decreasing the risk of many common diseases.  This plant based protein source is high in fiber high and high in protein and probably THE most versatile food I can think of.  It is a truly fabulous meat alternative.
It is time to get creative in the kitchen. Grab that carton of tofu from the fridge and go for it!
Just don't forget to leave me a note to tell me what you think of soybean curd.
Things you may need for this recipe:
Fried Tofu with Sweet Chili Sauce
Delicate cubes of tofu gently fried to golden brown and drizzled with sweet spicy sauce
October 18, 2020

4

30 min
Ingredients
1 block firm tofu
1/3 c cornstarch for dusting
2/3 c vegetable oil for frying
2 green onion, sliced thinly
1/4 c cilantro chopped leaves, optional garnish
Sauce:
1/4 c water
1/4 c rice vinegar
1 T chili sauce such as sambal oelek
3 T sugar
2 t cornstarch
Directions
Step 1

Place block of tofu between thick layer of paper towels and allow to drain for at least 20 minutes.

Step 2

Meanwhile in a small saucepan mix together all sauce ingredients and raise heat to medium low, heat while sauce thickens slightly then turn off heat and keep warm.

Step 3

Cut tofu block in half crosswise then slice 4 equal square on each side to make 8 total squares. Dredge each square block in cornstarch.

Step 4

Heat oil in large skillet over medium high heat, when it gets hot but not smoking, gently slide about half all tofu squares into hot oil and fry undisturbed for 3-4 minutes until brown.

Step 5

Use a small spatula to turn each square to fry and brown on the other side. Edges should brown along with the tops if enough oil is used to reach midway. Remove golden brown tofu to a plate and keep warm.

Step 6

Fry remaining squares then plate all fried tofu and drizzle with chili sauce, top with green onion and cilantro