The best thing about the holidays is dessert!
They will be here before you know it so start planning now.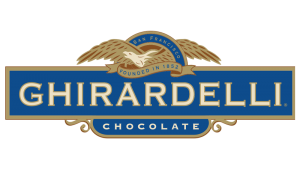 Whether you plan to travel and visit family for the holiday or it's your turn to host, you are going to want to make a batch of this  Easy No Bake Salted Fudge.  Worried about too much salt?  Skip the salt and make Easy No Bake Shredded Coconut Fudge.  Both are out of this world fantastic!
You may opt to skip the salt but don't skimp on the chocolate.  Use good quality chocolate for the best results when baking and making desserts.  I keep bags and bars of Ghirardelli baking chocolate in the house at all time for whenever that craving hits.  Plural yes!  When I bake I like to mix dark chocolate with semi-sweet or milk chocolate so I have 1 bag of each and a couple of bars just to be on the safe side.
What's the difference between dark chocolate and milk chocolate?
All chocolate is made from cocoa beans which come from cacao trees mainly grown in West Africa. Both milk chocolate and dark chocolate are made from the same ingredients yet the amounts of those ingredients vary between the two types of chocolate.  Milk chocolate consists of cocoa butter, milk powder, sugar and usually 10% cocoa powder; whereas, dark consists  a cocoa butter, a higher percent of cocoa powder, less sugar but does not contain milk powder.
Milk chocolate definitely tastes sweeter than dark chocolate.   Dark chocolate is known to be the healthier choice due to lower sugar content, lower carb and higher fiber content.  The higher the percentage of cocoa, could be anywhere from 35%-85%, the stronger the taste and more bitter the flavor will be.
Many Americans tend to prefer milk over the more bitter tasting dark chocolate and if that is true for you, then you may want to use only milk chocolate morsels in your Salted Fudge. I mix both semi sweet or bittersweet with milk chocolate because we like our desserts a little less sweet than most.
Need a chocolate fix?
Shop Chocolates & Gifts at Ghirardelli.com!
This No Bake Easy Chocolate Fudge takes just a few minutes to prepare but you will have to wait for it to set before slicing.  While you are waiting send me a comment and let me know where you plan to take your batch of fudge.
Easy Salted Fudge
Sweet and salty makes for the perfect combination in this decadent chocolate fudge dessert
October 11, 2020

2 hr 30 min
Ingredients
1 1/2 c mini marshmallows
1 c white sugar
1/2 c heavy cream
3 T unsalted butter
3/4 c Ghirardelli milk chocolate pieces or chips
3/4 c Ghirardelli semi sweet pieces or chips
3/4 t vanilla extract
1-2T coarse sea salt or 1/4 c shredded unsweetened coconut
Directions
Step 1

Line rimmed baking sheet with parchment paper

Step 2

In medium saucepan over medium heat combine marshmallows, sugar, cream and butter and cook about 5 minutes until marshmallows are almost completely melted

Step 3

Bring mixture to a boil stirring occasionally for about 3 minutes then remove from heat

Step 4

Add chocolate and vanilla and stir until chocolate has melted then pour hot fudge onto prepared pan and smooth with spatula to make even thickness

Step 5

Sprinkle salt or shredded coconut over top

Step 6

Cool to room temperature than refrigerate about 2 hours to set

Step 7

Cut into squares