Looking for a juicy flavor packed chicken recipe?
Got one right here for you!
In this recipe I use chicken breast tenders to ensure each bite would be soft and totally absorbed with the flavor of the delicate light brown sauce.   Nothing worse than trying to chew tough dry white meat and that is the main reason I most often cook using dark meat of the boneless thighs.   On the other hand, the overall dish definitely looks more appealing when you use white breast meat so keep that in mind if you are trying to impress someone.
Although chicken breast tenders are likely to be first choice for most other families,
among the members of my family, the dark meat of poultry is really all that is needed.  The dark meat from the thighs (we don't bother with the legs) is inherently more flavorful, juicy and soft due to the additional fat in the meat and this is the reason the flavor of any marinade and sauce cooked with it gets an extra boost of rich delicious flavor.
Dark meat gets a bad rap for being less healthy than the white breast meat but in reality the fat in thighs is a healthy monounsaturated fat.  You should avoid eating the skin from all cuts of chicken as the skin is where the unhealthy fat resides.
The sauce for this dish, made from a combination of soy sauce, sherry and either chicken or vegetable broth, is on the lighter side but still very flavorful.  Add fresh chopped garlic and slivered ginger and be prepared for your  taste buds to go crazy.
Many asian stir fry recipes use cornstarch as a thickening agent for the sauce.  If you have an aversion to using cornstarch any alternative starch will work just as well.   There is potato starch, tapioca starch, or arrowroot to name a few other types of I have regularly seen in grocery stores.
Be sure to wash  your hands well with warm soapy water after handling chicken and wash everything that the chicken came in contact with such as utensils and the cutting board before anything else touches it. After washing up after cutting chicken I always seal my sponge into a ziploc plastic bag put it in the microwave on high for 1 minute to zap any lingering bacteria. Just in case.
To determine whether chicken is fully cooked  in a dish like this or when you are cooking parts rather than a whole bird, you should pierce the thickest area with a sharp knife or long wooden pick.  If the juices run clear, whether it is breast meat or thigh, than you can be sure meat is fully cooked.   Bone-in chicken requires some patience but chicken cut up in stir fry cooks in just a few minutes.
Try this quick simple stir fry next time you are craving tender juicy chicken expand your culinary horizons and make it an Asian flavored with this light and easy brown sauce.
Be sure to let me know how you like it and send me a picture too!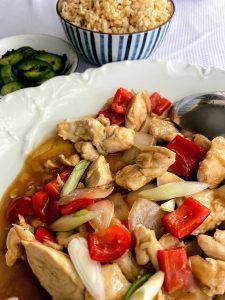 Ginger Chicken
Soft tender chicken and crisp vegetables in a flavor packed light brown sauce
Ingredients
1 lb chicken breast boneless skinless or chicken tender
2 T fresh ginger, finely slivered
1 clove garlic, finely chopped
1/2 red bell pepper cut 1/4 inch pieces
1/2 onion, cut 1/4 inch pieces
For sauce: 1/2 c chicken broth
1T soy sauce
2T dry sherry
1 t sugar
2 t cornstarch
2 green onion sliced for topping(optional)1/4 t red pepper flakes (optional)
Directions
Step 1

Cut away white tendon from meat if using tenders then cut chicken into 1″ pieces and set aside

Step 2

For sauce: in small bowl or jar with lid combine -broth, soy sauce, sherry, sugar and cornstarch. Stir vigorously to combine or put lid on jar and shake then set aside

Step 3

Add oil to large sauté pan and set to medium high heat. Sauté onion and red pepper til tender but crisp about 2 minutes then add garlic and ginger and stir fry til fragrant about 30 seconds. Remove from pan to a dish

Step 4

Heat little more oil in pan add chicken and stir fry til no pink remains about 3- 5 mins. then add veggies back to pan

Step 5

Recombine sauce, add to pan and cook until bubbly and sauce thickens slightly, about 2 minutes then top with green onion and pepper flakes and serve