4 Ingredients  4 Steps
That is all you need to make this fresh delicious homemade coleslaw side dish
You could probably throw this together in 4 minutes.  It is that easy.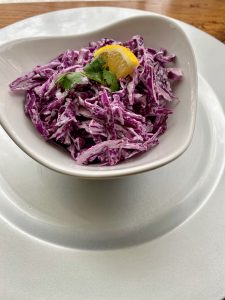 This is a mainstay at or house during summer for sure, but I make it often throughout the year too.  I take my coleslaw side dish everywhere- family gatherings, neighborhood BBQs, school events,  it travels well and people always eat it up.   Three great reasons to add coleslaw to your repertoire are:
 cabbage is inexpensive
 very quick to make
it is healthy
There is mayonnaise in coleslaw but not a lot so I feel the good outweighs the bad.  I do not suggest swapping no- fat or low fat mayo for the real thing.  My philosophy is that it is better to eat real food in moderation rather than the processed and chemically altered foods.  Real food simply tastes better too.
Cabbage, and other members of the cruciferous family, have been proven to help fight inflammation.  Studies show that whether raw or cooked cabbage is packed with Vitamin C, and is antioxidant rich.  We all know we should be eating more vegetables and cabbage may be one of the most inoffensive vegetables on the market.
The crunchy crisp texture of cabbage is not weird even when cooked.  It  doesn't smell funny, unless it we are talking sauerkraut.  It tastes agreeable too, unless we are talking sauerkraut. Carrots and cucumbers may be more popular than cabbage but cucumbers have virtually no health benefits and carrots are just so blasé.
High in fiber and vitamin C
Red cabbage is especially high in vitamin C, in fact, 1 cup will give you 85% of your daily required dose.  And like its green cabbage cousin, it is high in fiber and other healthy nutrients which help reduce inflammation, will reduce your risk of diabetes and has cancer fighting qualities.  Systemic inflammation is becoming very serious problem in the U.S and we all need to take charge of our own health,  take the bull by the horns and do something about it.
This simple side dish takes no more than 10 minutes to prepare and goes with so many lunch or dinner choices it is on my menu all the time.  Cabbage is one the best things you can put into your mouth.  The benefits of cabbage, both red and green, translate whether served cooked or raw.  The most important thing is to start eating vegetables or more vegetables if you already eat a few.  There are so many interesting foods from other cultures and countries in the markets today.
Next time you go to the market, challenge yourself and buy one new vegetable and send me a comment.  Tell me what vegetable decided to try, how you prepared it and, of course, whether you like it or not.
Homemade Coleslaw
Ingredients
1/4 head cabbage
3-5 T Hellmann's Mayonnaise
2T Parsley
1 T prepared Italian dressing
Directions
Step 1

Shred cabbage and put in medium size bowl.

Step 2

Mix dressing with shredded cabbage to coat well

Step 3

Add mayonnaise and mix to combine

Step 4

Add parsley to mixture