Make our favorite guacamole dip in less than 10 minutes. I promise it can be done!
It tastes best if you make it ahead and allow the flavors to meld but it tastes pretty darn good without any melding.
Avocados are the most unique fruit
The health benefits of avocados  have been widely researched and  are widely accepted to be true. Among so many other things, they are high in fiber, low in carbs and full of beneficial fats that keep you feeling full as well as satisfied.
Avocados are very popular our house.  The rich buttery consistency and mild flavor makes them extremely versatile but I think everyone in our house would agree that the best way to eat avocados is in Guacamole!
We eat a lot of different types of food in our house and I am grateful that everyone is open to trying new things and will eat whatever I cook up without complaint.  Sometimes I do get constructive criticism but never complaints.
I hear stories of difficulties families have when there are aversions to foods, allergies to foods and just plain refusals to eat certain types of foods.  These refusals come from adults too, not just children.
Thankfully, I do not have to deal with any of those things.  It may be because I started introducing my kids to a wide variety of foods when they were very young and we did not give in to the kids when they refused to eat or said they did not like something.  I was doing all the cooking so I  was the one who made decisions about food.
That is not to say I did not buy things that pleased them or that they did not get to eat the things they liked.  It was simply that I was in charge and  I made those decisions when they were young.  As teenagers they have more control but now they a great foundation and they think about the consequences of their choices.
I can't believe I thought I did not like Guacamole
I brought up the idea of kids, usually kids, saying they don't like something and not wanting to eat it because of our recent discovery.  Recently my youngest daughter tried guacamole again  and much to her surprise she discovered that she really did like it.
My message to you is : Don't give up!  Continue to offer tasty healthy snacks and meals and it is very likely you will get someone to change their mind.
The hardest part about this recipe is finding decent avocados. It truly takes more effort to find perfectly rip avocados than it does to through the dip together.
It's perfect as dip with corn chips but don't forget it on taco night!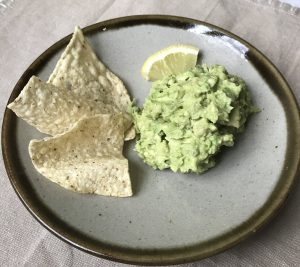 Please do try this at home and send me a comment and tell what you think.  I want to hear what your kids think about this most unique fruit dip too!
House Favorite Guacamole
Ingredients
1 Avocado
Juice of 1/4 fresh lemon
1 clove garlic, minced
1 tsp salt or more to taste
Directions
Step 1

Cut avocado in half and scoop both halves into medium bowl and mash until smooth

Step 2

Add minced garlic, salt and lemon juice and mix thoroughly to combine

Step 3

Adjust flavor to your taste

Step 4

Grab a bag of tortilla chips.