This traditional Japanese dinner is so simply delicious it amazes me every time I make it.  It is so very inexpensive and so exceptionally nutritious I cannot help but compare typically American "cheap" meals with  standard Asian meals.
Most often I use  ground turkey for this because the ground chicken has been  determined to be too dry by my family.  I can't really disagree and can't say I mind because ground turkey tends to be cheaper than the ground chicken and  who doesn't love to spend less at the grocery store?   I will  buy the ground turkey when it's on sale and freeze the package so I have this meal idea in my back pocket when it's crunch time.  The other ingredients in this recipe are pretty much always in stock at my house so we eat this when  mom has no other ideas and it is sooo quick I almost wish I could make it every night.
I love this meal because…well, there  is just nothing not to love about it!  It is flavorful, colorful, balanced and nutritious.  The featured picture shows crumbled turkey with carrots and shiitake mushrooms  and the inset shows a slightly different more colorful variation with seasoned scrambled egg served alongside the crumbly turkey  topped with  peas as well as dried seaweed.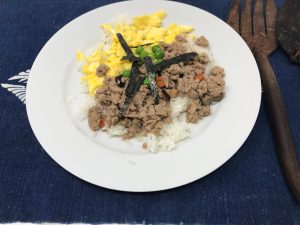 A huge success story comes from my eldest brother who, as I am told,  makes this fairly frequently for his family and they all eat it and enjoy it!  He has 3 teenagers and they are typical in the sense that they prefer certain food groups – chicken nuggets, pizza,  macaroni and cheese.  If those are not on the menu at their house then the kids  may not eat dinner at home.  I was so pleased when he proudly reported  that all his kids ate "the chicken and the egg thing"  and there was not one complaint!
Try it with your teenagers or tweenies and see what they think.    I recommend including the eggs and other toppings when you do and   I know you will love the results of the extra effort!
Soboro Don
Seasoned minced chicken or turkey on rice
January 29, 2019

4

45 min
Ingredients
1 package ground turkey or chicken (about 1lb)
1 T oil
1 carrot diced
3 dried shiitake reconstituted and diced
Sauce
5 T soy sauce
5 T sake
3 T mirin
2 T sugar
2 T fresh grated or minced ginger
Toppings
1/4 green peas (thawed) Scrambled Eggs
1 sheet dried seaweed crumbled or cut into strips
Scrambled Egg Topping
1T oil
7 eggs
2 T mirin
1/2 T sugar
1/2 t salt
Directions
Step 1

In a large saucepan heat the oil on medium high heat and add carrot and mushroom and cook until softened, about 5 minutes

Step 2

Add ground meat and break up to small pieces add sauce ingredients to pan and cook on medium to low heat  until  cooked through and there is no pink

Step 3

Add green peas to top and put the lid on for 1 minute to be sure peas are heated

Step 4

Serve on bed of rice and top with crushed or cut seaweed

Step 5

For scrambled egg topping:Crack eggs into large bowl and stir with fork or chopsticks to break up eggs then add next 3 ingredients to mix together well.

Step 6

Heat large fry pan with 1 T oil or butter

Step 7

Pour egg mixture into fry pan and scramble eggs to consistency to your taste Add as topping on rice next to minced turkey mixture and top with peas and  crumbled seaweed