This Chinese take out favorite is so incredibly easy you  will not believe it.   The first time I tried this and  discovered how easy it was to  recreate that restaurant quality flavor I was truly astonished because I was convinced it should be much more complicated.
This is the kind of dish that really gets me excited about blogging and sharing ideas! I want to prove to you that it is not difficult and does not have to be expensive to make your family really great meals.  This one is almost  embarrassingly easy and  tastes better than what you will be served at the average Chinese restaurant in your local strip mall.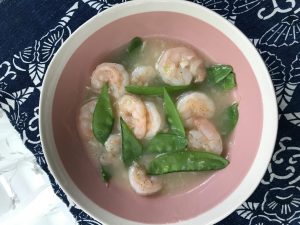 Who doesn't love a recipe that includes:
1. Just a few ingredients
2. Limited prep time
3. Super fast cooking
yet tastes like you have been slaving away at the stove.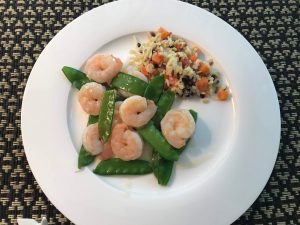 Like my  Beef with Broccoli   recipe this Shrimp  dish is without question one you will make again and again and then you will become so confident you will enhance and reshape  it and make it yours.    You love  asparagus so use that instead of snow peas. Don't have sake? Give white wine a  try.
I tested this recipe using both fresh uncooked shrimp and frozen peeled precooked to find out if you can taste the difference in the end because  most folks just don't have the time to peel and devein. Then there are folks that simply find the task very unpleasant.
I found that using frozen shrimp does not significantly change the flavor of the broth in the end so if you don't like peeling shrimp, use frozen.  And buy the medium sized shrimp instead of the smallest size.   You will enjoy it more.
If you do go with fresh shrimp here is an efficient tip I saw on the internet to clean and devein  the little critters.  Use a  a fork to remove the shell and devein simultaneously!   Hold the shrimp with feet dangling down and tail toward your wrist in one hand and a fork in the other. Slide a fork tine under the shell and gently slide back toward wrist/tail and lift slightly.  You will see the shell slice in two and the vein will pop up a bit.  Remove the shell and vein and repeat.
Blanching the peas, brightens them to a beautiful green  but it will  soften them.  I like how the dish looks with the contrast of the pink shrimp and bright green peas so I always blanch them but you don't have to if you don't have those extra few minutes.  The blanching process doesn't take long because you don't need to bring  lots of water to boil as you would for cooking pasta, just enough to cover the veggies.   When the water comes to a boil drop in the pods, watch it for 30 seconds then scoop out the pods and drop them into icey water.
Sake is an ingredient that I have on hand at all times but I am pretty sure that most home cooks do not.  I tested the sauce with many other things to enhance the flavor of the chicken broth to limited success.  I did find that the using only chicken broth in this recipe works but it turns out  a little bland so definitely add salt and pepper to boost the flavor if broth is all you have.
In my opinion the sake and chicken broth combo gives the most authentic  flavor and sake can be used in any recipe that calls for wine or sherry so don't be afraid that you won't ever use it again.  I did not see cooking sake at the local grocery store in the international aisle; however, it is sold  in wine & beer section of the store and that is where I buy mine.    Sake used for both cooking and  imbibing can be found at Asian markets.
White wine is superb if you don't have sake  but it changes the flavor so much it becomes more like a fine dining experience.  I recommend you try this recipe with white wine but not if you are craving Chinese food!
Shrimp with Snow Peas over Rice
Ingredients
1 lb large shrimp, peeled and deveined
2 T oil
1/4 c sake
3/4 c chicken broth
2 1/2 tsp cornstarch
2 cloves garlic minced
1T fresh minced ginger (about size of thick quarter)
1 sliced green onion including green part(optional)
1 c pea pod, blanched
Directions
Step 1

Prepare a medium bowl of ice water and set aside.  Set small sauce pan with 1 quart of salted water to boil.  Blanch pea pods for 30 seconds  then strain and immediately plunge into the ice water to stop cooking. Set pea pods aside

Step 2

Mix sake, chicken broth and cornstarch together in jar with lid and shake vigorously to combine. Alternatively mix cornstarch with liquid by using fork to break up and dissolve thoroughly

Step 3

Heat oil  in large fry pan at medium high heat and place shrimp in single layer  in the pan. Cook 1 minute then turn shrimp to cook 1-2 minutes or until opaque throughout

Step 4

Remove shrimp from pan.  Add little more oil, if necessary, to hot pan then  add garlic and ginger. Cook aromatics til fragrant about 30 seconds then add the sauce to pan.Simmer sauce and stir as it thickens.Add the shrimp and pea pods back to pan with sauce to heat all ingredients through.  Serve with rice or your favorite grain.