Hot
Aromatic
Tangy
Words to live by …
The beauty of Chinese stir-fry meals is that they are quick cooking.  Once you  have all the ingredients prepped it's a matter of combining them into a pan on fairly high heat and voilà.  This simple green bean & pork recipe falls right into the easy prep quick cooking category.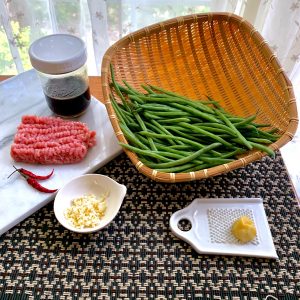 I like to use the french style green beans when I make this stir-fry.  They take less time to cook, they are generally softer than the larger ones and they just look better in the serving dish.  Cut the longer beans in half if necessary.  You'll want to them to be about the same size to allow for even cooking.
Use a cast iron pan for to make this if you have one.    Get the pan very hot then dump the beans in and don't be afraid to get them nice and black but not totally burnt black allover.   And don't forget to turn the fan on over the stove.  My fire alarm usually goes off before I remember to open windows or turn the fan on high when I use that cast iron with high heat.
The blackened  green beans turn sweet and become a perfect compliment to the tangy hot sauce concoction. My version of this Szechuan style stir-fry is mildly hot because most members of the household cannot tolerate "hot" food.   Add  1 more red chili to the sauce or a little something after the fact if you like your food a little hotter.
Spicy Green Bean & Pork Stir-Fry
Ingredients
2 T vegetable oil
1 lb french style green beans
1/2 lb ground pork
3 cloves garlic, minced
1 T ginger, minced
Sauce:
1/3 C soy sauce
1/3 C water
3 tsp sugar
2 T dry sherry
1 tsp sesame oil
1 -2 dried red chili, seeded and minced
or 1/4-1/2 tsp red pepper flakes
2 tsp cornstarch
Directions
Step 1

In medium jar with lid or small bowl combine sauce ingredients and shake vigorously to combine and set aside. If using a bowl use a whisk to combine.

Step 2

Heat oil in 12″ cast iron or non stick pan on high heat. Add beans and cook til tender about 5-8 minutes and the skins are shriveled and blackened in spots, stir frequently.  Transfer to a plate and turn heat to medium.

Step 3

Add pork to pan and break up into smaller pieces with wooden spoon then cook til no pink remains

Step 4

Add garlic and ginger and cook til fragrant, about 30 seconds

Step 5

Add beans back to pan and stir together. Shake the jar to recombine sauce and add the sauce to the pan stirring to coat. Cook til sauce thickens about 20 seconds. Serve on top of rice