We love the Outer Banks of North Carolina!
We especially love Hatteras Island.  Our family has been going for week-long vacations to one of the quiet nature- loving Outer Banks towns just about every year for the last 15 years. We have vacationed in other places to spice things up but we keep going back to Hatteras Island for the simplicity of it all.
There isn't loads of stuff to do to fill your days with activities in the southern most part of the Outer Banks so if you are that kind of family you will be disappointed.  I truly enjoy just sitting on the beach with a good book and the umbrella nearby so I am always content. Our kids enjoy the ocean and that's what we do most days but we've tried kayaking, parasailing, putt-putting, go-carting and a ferry ride to Ocracoke.
This year was very different because we did not have our son, Kai or our Boston Terrier, Sofi, with us.
I missed them both this year.
Not sure which one I missed more…
Come on, of course it was Kai!
I did miss walks on the beach with Sofi because she really is the only
one/dog  that would take walks with me early in the morning.
Kai is not and never has been a beach walker.
I know Sofi will not be able to make it next year but maybe Kai will and I look forward to that possibility.
I chose a rental house in Avon this year.  It seems to be one of the larger more populated  Villages on Hatteras Island and so we found lots of shops, restaurants and cafes within a short drive.   My girls love to explore the coffee shops, wherever we go,  and there are several in Avon  so we were not going to go without.
A short walk from our house was Island Time Muffins and Scones so that cafe was our first go 'round.  There is actually a bakery onsite here!   The scones and other pastries look delicious  but we can only attest to very tasty muffins.  Very spacious cute coffee house with table seating as well as informal comfortable sofas and chairs.   The exterior paint job is so eye catching you cannot miss the place right off highway 12!
You Can't Miss Island Muffins and Scones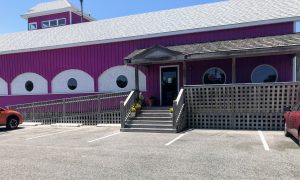 Not far from the first location we found a slightly less traditional coffee house with the very catchy name "Uglie Mugs". This shop offers a smoothie menu alongside their unique blended drinks  as well as an artsy bead jewelry making space in the back and artwork from local artist in the front of the shop and of course, they sell ugly mugs.  Eclectic but cute and most important the coffee was good and the name is so clever we bought a t-shirt!
Uglie Mugs is a small shop with literally one table indoors but offered a unique assortment of blended coffee choices.  We  had the Kickin' Kahlua Latte (non alcoholic) on ice and enjoyed it.  A few of the other more memorable combos were the S'mores Latte and the Heath Bar Latte.  We did not try those but there is always next year.
If you are passing through Avon and need a cup a joe definitely stop at Uglie Mugs.  You just need to keep your eyes peeled because it's a  small place set back from the highway so you could easily drive on past.
A new restaurant in Avon that came highly recommended was also very near us, located at the Avon Pier.  We typically steer clear of any chain restaurants and take our chances with the local establishments.  In the past we have been somewhat disappointed with the seafood restaurants on Hatteras Island because of the limited menus.  The Pangea Tavern  was a very pleasant surprise in that we could order seafood that would not be  fried.
Our New Favorite Restaurant
Pangea Tavern  offers a nice assortment of seafood dishes and we all tried something different.  I veered from my comfort zone and ordered the Bayou Creole Shrimp and Crawfish  Pasta and it was sooo worth it.  Very well done.  If you really like spicy, you may be disappointed with their version but for me it was perfect.  We also tried the crab cakes, Fish and Chips  and Baja Fish Tacos and all of them were equally delicious.
After trying  Tuna Poke in Hawaii a few years ago I have become a huge fan and if it's offered on the menu I am likely to get order it. Pangea Tavern's take on the dish was not impressive-should have been called  tuna nachos.  Just too much going on on that plate for my taste.
If you crave relaxation and a peaceful vacation  away from the crowds,  you should give Hatteras Island a try.    You will find all you really need and plenty of wide open beaches in any of the Villages on Hatteras.