For the love of artichokes
Artichokes are the edible immature flower of a large thistle.  Holding up a fresh artichoke one cannot help but wonder why a person ever considered eating this pretty crazy looking vegetable.  That person must have been really really hungry that day.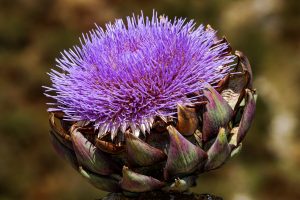 Peak season for artichokes is spring and they won't just grow anywhere.  They grow best in Northern California where winters are mild, summers are cool and it's often damp and foggy. Apparently they thrive in that cool coastal climate and you run across many fields full of this impenetrable thistle in that part of the country.  Once picked artichokes will lose moisture quickly so you should buy them as fresh as possible and eat them right away.
Alternatively, you can buy artichoke hearts bottled or canned anytime of the year and you won't have to worry about selecting storing or figuring out how to cook the darn things.
Most of my blogging and recipes focus on fresh healthy food using a lot of  Asian ingredients but I have been having a whole lot of fun with the Grennan Family cookbook.
There are not many Asian inspired recipes in Around the Table but maybe through this blog I will encourage a few family members and friends too, to step out of their comfort zone and try something new.
Much like me and the artichoke.
Not only are there some really great recipes, like this one submitted by Aunt Peggy, in this family cookbook but it's fun to spend time reading the childhood memories, stories, tips and a few secrets of those we know and love.  I especially like the tips and words of wisdom.
Here is some wisdom well worth remembering. Maybe it will give you a boost and help you through the day:
"Half the things you worry about never happen, and the other half you can't help." ~ Grandpa Matt
This creamy artichoke appetizer recipe is a winner!
The crunchy wonton shell adds a unique twist to this popular party dip.  It should be noted that either wonton wrappers or dumpling wrappers may be used in this recipe.  Wonton is a square shape and bigger than the round dumpling wrapper but other the shape they otherwise the same.  I have not seen either type of wrappers in major grocery stores near me but depending on where you live you may.  Keep in mind that they would need to be refrigerated so you won't find them in the aisle with dry goods.  I  find them always in stock at the Asian grocery or available online, of course.
The bottle of Grilled Artichoke Hearts I found at WalMart.  I was impressed by the "grilled" description and thought it would add a little zing to the overall flavor of the appetizer and it did!  I used a Mexican style cheese blend only because I had lots of shredded cheese but not an ounce of mozzarella.  The blend of cheeses turned out great tasting and also provided a little more visual interest to what is usually a bland looking dip.
When you give this recipe a try, be sure to leave me a comment below and tell me where you took these yummy cheesy appetizer bites.  I'll let Aunt Peggy know you loved them!
Artichoke Dip in Crunchy Wonton Cups
Delightful individual bitesized serving of cheesy artichoke dip that comes in its very own crunchy bowl!
Ingredients
1/2 c parmesan cheese
1 c mayonnaise
1/2 t onion powder
1/2 t garlic powder
2 c shredded mozzarella or shredded Mexican mix cheese
1/2 c artichoke hearts, drained and chopped(4 oz)
1/4 c chopped fresh parsley (optional)
24 wonton or dumpling wrappers (1 pkg)
Pam or other spray oil
Directions
Step 1

Preheat oven to 350°

Step 2

In a medium bowl combine parmesan, mayo, onion and garlic powders then stir in mozzarella cheese and artichokes

Step 3

Combine ingredients well then add parsley and fold that into mixture, but save a little to sprinkle on top just before serving

Step 4

Coat one side of wrapper lightly with Pam spray and press that side into mini muffin pan. Bake wrappers at 350° for 5 minutes or til lightly brown

Step 5

Remove pan from oven and fill each wrapper with about 1 T of artichoke dip -don't be stingy but don't make them too full

Step 6

Bake for 7 minutes
Ingredients: