So simple and so delicious. Everyone in the family is going to love this juicy chicken dinner with homemade teriyaki sauce.  No bottled sauce necessary and super quick cooking so you will have tonight's dinner ready in a jiffy.
Great Dinner, Mom!
I love to hear that. Don't you?
Sometimes I just wing it and things turn out really great!  Sometimes I follow a recipe and dinner turns out really not great. Like the time I made a new dish that tasted like soap, according to my husband. Unfortunately, that new recipe I tried was for a dinner party.  Our guests could not bring themselves to agree with Ken's "critique", but I will admit that they were not overly complimentary.
After that fail, he convinced me never to try out a new recipe on poor unsuspecting dinner guests.  When family comes over for dinner then anything goes, right? My family is wary of my house at meal times.  Very suspicious of my offerings at potluck.
I am honestly not kidding when I say they are afraid of what might be served at my house.
My kids do not understand their concerns because they have grown up eating all these interesting and yes, sometimes strange foods. My advice is to start offering your children a variety of foods and flavors when they are very young and don't give up too soon when they resist you.  Most of them will come around.
It is always shocking and somewhat disappointing to meet adults who will not or cannot eat more than a few types of foods – pizza, hamburgers and chicken wings.   An easy trick to add variety to your daily meal is by simply adding more color.  When you incorporate  more colorful vegetables and fruits in your meals you can be sure you are getting more nutrients in your body.  Not only is your diet healthier but cooking becomes more interesting and eating gets more exciting.
Everyone's Favorite Chicken Dinner
Nobody is going to shy away from this Golden Teriyaki Chicken, I assure you.   The chicken is soft and juicy and the teriyaki sauce sweet and savory.  There will be no need to disguise, cajole or otherwise trick your picky folks into eating dinner tonight.
You may be tempted to buy the chicken cutlets to make slicing a little easier but it takes a minute or 2 to slice the breasts into smaller pieces and if you are cost conscious, and who isn't these days, you will save a couple dollars buying the larger cuts.  I don't like to buy the pre cut tenders because the often leave the tough tendon running through it and makes it nearly impossible to cut into neat pieces.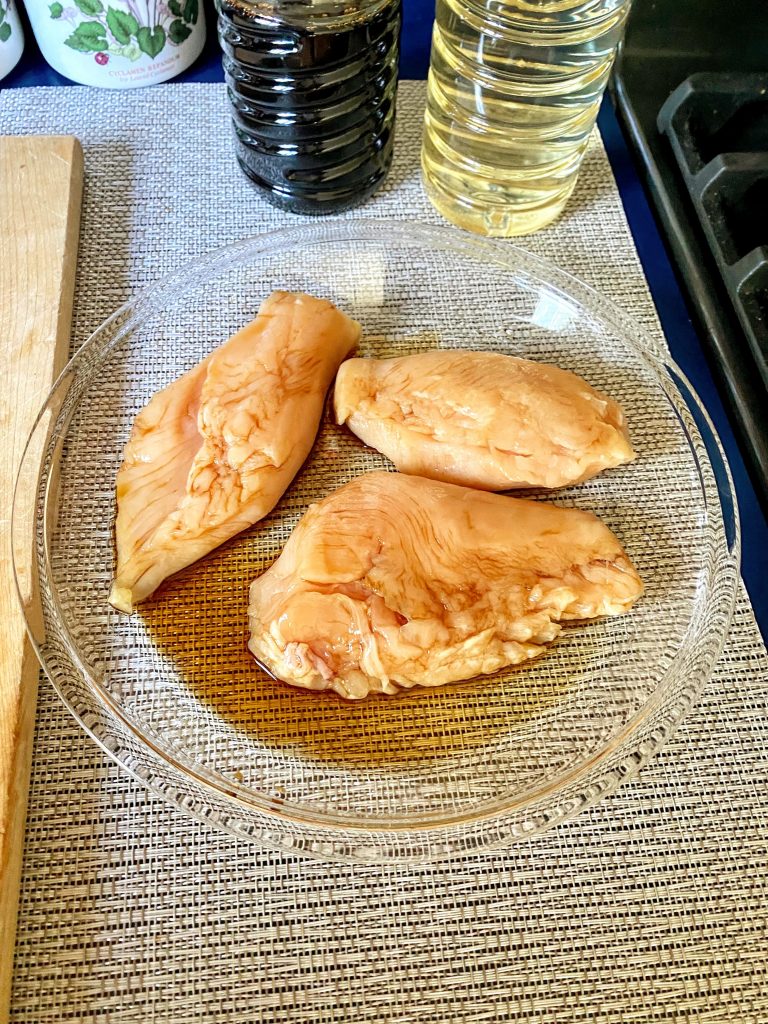 Marinating is an important step but not essential if you have time limitations. Marinating helps to tenderize as well as seasons the meat.  You need only marinate the meat 30 minutes before you start cooking and as you cook, even though it's going to be quick, the teriyaki sauce will thicken and caramelize to coat the chicken in a delectable glaze.
Cutting the meat in thin shreds before marinating works well for this recipe and you may even find it more efficient to cut the chicken into pieces first, then marinate and then cook.  Both methods turn out excellent. I think you will find that the flavor can be more intense with the smaller pieces marinating. Just be careful not to marinate too long because the meat can become too salty.
There is no need to marinate for hours as we do with much larger cuts of beef or poultry.  Try both marinating techniques and see which method you prefer and let me know.
No Vegetables? No Worries
I have made this dish so many times and used a variety of vegetables and no vegetable at all, but quite often with just onion or shallot (yum!) because that's all I have in the cupboard at the time.  No vegetables? No worries, serve it up with a side salad.
This Golden Teriyaki Chicken dish is so simple and tastes so incredibly delicious I know you, or your family, will be wanting to eat it again and again.  The homemade teriyaki sauce is versatile and pairs with fish just as well as meat and poultry so here is a hot tip.
Hot Tip #1  Make the sauce ahead and refrigerate
Hot Tip #2  Double the sauce recipe- you will be glad you did
More Quick,  Easy and Delicious Chicken Recipes
If you love this Golden Chicken Teriyaki and want to try more of my chicken dishes here are a few recommendations
Easy Weeknight Chicken and Broccoli,  Kung Pao Chicken and one of my very favorites Ginger Chicken
For this recipe you will need:
Shishito or Peppers  (Optional)
Golden Chicken Shreds
Amazingly juicy strips of teriyaki glazed chicken breast
Ingredients
11/2lb Chicken Breasts, boneless
2 t cornstarch
1/2 onion, sliced
Marinade:
1T Mirin
1 T Soy sauce
Sauce:
2T Soy sauce
2T Mirin
2 T Cooking Sake
11/2 T Sugar
Directions
Step 1

Place chicken breast in flat glass dish, use a fork to poke holes in each breast 4-5 times. Combine ingredients for marinade and pour over chicken, turning to coat. Marinate for at least 30 minutes

Step 2

Meanwhile combine ingredients for sauce and set aside

Step 3

Pour off marinade and slice chicken breast into thin strips

Step 4

Toss with cornstarch

Step 5

Heat 1-2 T oil in fry pan to high and cook onion, if using, until softened, about 2 minutes then add chicken and cook 2-3 minutes per side until no pink remains and pieces are nicely browned. May need to cook in batches

Step 6

Return all chicken to the fry pan, reduce heat to medium and pour sauce over evenly. Gently shake pan to coat and glaze turns golden brown and bubbly

Step 7

Serve with rice and salad