Coffee or tea?
Which caffeinated beverage do you use to kick start your morning?
It's time to give Matcha the attention it deserves. Froth together bittersweet Matcha green tea and creamy Oatmilk and give your brain a boost.
I admit I have (at least 1) habit.  Every morning I look forward to a mug of scorching hot brewed coffee.  It's definitely not the flavor I crave because it's kinda harsh and absolutely cannot be consumed without cream and sweetener. And even then it's not really great tasting.
It's pure and simply a habit I find hard to break.
To be honest I haven't found sItufficient reason to break my habit. Unlike Ali, my youngest daughter, who needed something to replace coffee due to the unpleasant side effects it caused her. She started experimenting with matcha and created her Signature Iced Matcha OatMilk Shake
You have got to try her super creamy, super satisfying beverage. It's an eye opener too!
What exactly is Matcha?
Matcha is a concentrated form of green tea.  The leaves specifically produced and dried to make green tea are then dried further and pulverized into powder. Not too long ago matcha tea was produced almost exclusively in Japan and served solely during Japanese tea ceremony but in recent years both green tea and matcha are produced in many Asian countries and even parts of the U.S.
You may not have tried it yet, but I'm sure you have heard of green tea as it has become popular all over the world for a variety of reasons, the unique earthy somewhat nutty taste being one of them.  The flavor is unique but, otherwise, not all that different from other teas. You get the same diuretic results and similar caffeine content but what matcha provides that other teas don't is powerful antioxidants.
More recently green tea extracts are found in many beauty and skin care products because the high level of antioxidants combat inflammation and cell damage.  It has been found to be a great benefit for oral hygiene too!  Hmmm,  it's starting to sound like I may have sufficient reason to kick my coffee habit.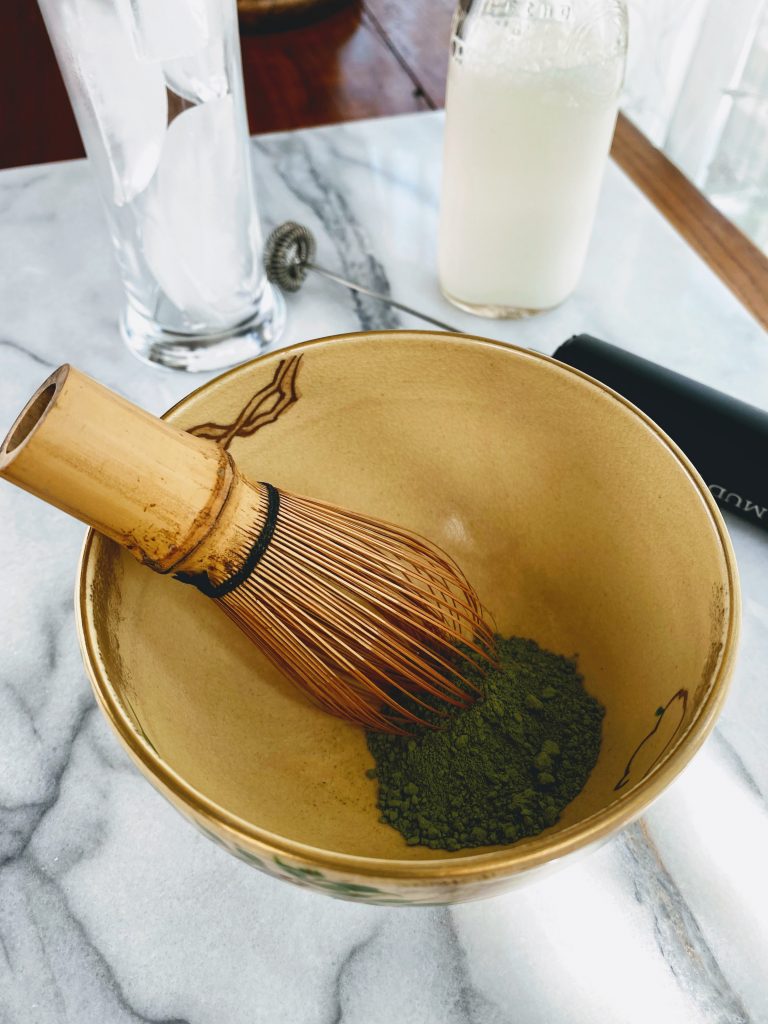 Matcha has about the same amount of caffeine per cup as coffee so you will definitely get that zing you need in the morning, or afternoon, or whenever you need it.  Ali uses Oat Milk to alleviate tummy rumbles which she finds happens after a cup of coffee.  Haven't confirmed any intolerance to lactose yet but the oat milk products don't cause  any trouble and you will taste that creamy rich flavor you are looking for.  I don't find this to be true for soy milk.
There are numerous websites and resources to learn more about tea but I found one to be particularly well rounded if you want to know more about tea.  Shang Tea  appears to be a Chinese Tea shop in Kansas City, Missouri of all places and they really seem to know about every facet of the tea industry.   I cannot vouch for the tea they sell, but I found the site to be extremely informative.
The most popular tea in Japan is green tea, whereas in other parts of Asia including China and India, brown or what is often referred to as "black tea" is most common. For the most part all tea comes from the same type of tea bush and the difference that make tea green or brown in is in the processing of the leaves. Check out this awesome Youtube video to learn more about how green tea and matcha is produced.
Special care is taken to protect the tea bushes specifically grown to produce high quality matcha.  The bushes are covered to protect them from direct sun to produce the vibrant green you expect to see in matcha tea. After the leaves are picked they are immediately steamed and then ultimately ground to make the matcha.  The steaming process destroys the enzymes that cause the leaves to oxidize and turn brown.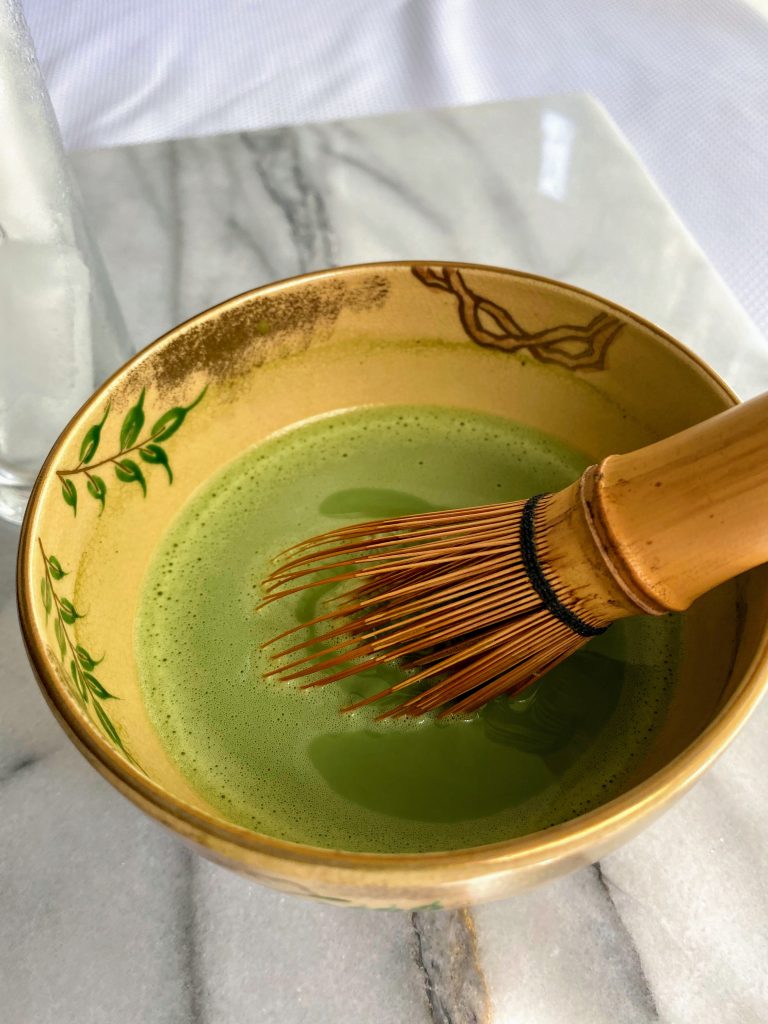 Because of the extra care needed to produce matcha it is more expensive than leaf tea. And since it comes in a powder it requires slightly more effort to whisk into a your favorite beverage.  Traditionally the tea is made by whisking the 1-2 tsp of matcha powder with approximately 4 oz hot water using a bamboo whisk, or chasen, in individual cups rather than brewed in a large teapot and then served with no milk or sugar added.
Ali tested different methods of whisking and foaming during her development stage and found the hand held frother to be the most efficient method in preparing her daily shake.
Thank You Matcha
Since I love matcha so much I am thrilled to find so many foods infused with it. Matcha KitKats are my favorite! A couple more of my absolute favorite recipes using matcha are Matcha Green Tea Ice Cream and this unique Matcha Mochi Cake.
Ali loves matcha too and when we recently heard of a cafe in the area that serves a huge variety of Matcha flavored drinks, soft serve and other specialty items we made plans to go immediately.  
As soon as you walk in the door of Matcha Cafe Maiko in Centreville you get that trendy cafe vibe.   There is plenty of comfortable seating which I find very important. The menu is extensive and just a little intimidating because the offerings are unusual.  They are entirely focused on tea flavored items, mostly beverages.
I was intent on trying something new so I ordered a Hojicha Frappé.  Hojicha is roasted green tea and although I was prepared for the worst because I had never had anything like it,  I was really pleasantly surprised. Within minutes I had sucked down the entire thing.
Ali decided to go "big" and tried the Maiko Special which was layered like a trifle and topped with a swirl of vanilla/matcha soft serve.  The most interesting ingredient was the addition of frosted corn flakes which was  "not bad",  according to Ali, providing a little crunchy texture to the otherwise soft concoction.  We both wholeheartedly recommend stopping in to a Maiko Cafe and try a Matcha beverage or  one of the many specialty tea items, if you find yourself near one of their locations in the U.S.
The important thing to remember is that you don't have to find a cafe because Ali has developed this yummy shake you can make in minutes in your home.  Gather the ingredients for this really super alternative beverage, whisk them together and let us know how you like Alisa's Signature Matcha Shake with a brief comment below.
To make this recipe you will need:
Matcha OatMilk Shake
A wonderfully refreshing beverage alternative to coffee
Ingredients
1 1/2 t Matcha green tea powder
1/4 hot water
7 drops stevia liquid sweetener
or 2 t agave syrup
1 t vanilla extract
3/4 c oat milk
Directions
Step 1

Measure the matcha powder into a large glass measuring cup or bowl then add hot water.  Use hand held foamer or matcha whisk to combine thoroughly. Add sweetener and vanilla and whisk then add the oatmilk whisk well again. Pour into favorite glass or tumbler to enjoy