You may have noticed that I have been on hiatus for the last 2 months.   Unfortunately, it is not because I have been out of the country on a wild Caribbean vacation.   And no, I have not been down with the coronavirus, nor has anyone in the family.  I have been out of touch because I have not felt an ounce of creativity. Not an iota.  I have not felt like cooking (except for Matcha Mochi Cake) or really even looking at a cookbook.
My sweet sister-in-law passed away unexpectedly late last year and we are heartbroken.  So many folks have lost loved ones over the past year due to the Coronavirus or Covid collateral, as a friend of mine refers to it.   I do not want to go on as if we are overcome with more sorrow than any other family who has suffered during the pandemic or other recent events and we feel lucky to have her friends and family to thank for the tremendous support and comfort.
It was very important to Amy, my sister-in-law, to connect with people.  She used  that word often and I did not have a real understanding of what it truly meant until this year when our lives became so restricted with the forced isolation. Years ago when I first heard her say it, I felt I was too busy  as mom of 3 small children, to be worried about connecting with people.  I just had too many other things to manage but I realize now that making connections with friends, family and our community is what life is all about. If we have learned anything from all that has happened this past year, it is that we are all connected more closely than we realized.  Even a tiny pebble will cause ripples in the pond.
Relationships are essential but we must take the time to build them
The isolation of the pandemic brought to light just how much we need people in our lives. Amy strived to make connections with the people in her life and the compassion she shared and the effort she put into making those connections was made obvious when we all gathered (virtually) in her memory.  She consciously made a point to talk with people, smile with friends get to know people and go deeper to find a common thread with those that came into her life and those people will remember the light and love she spread all around and miss her terribly.
 Being alone is lonely
I fear that once things go back to "normal" we will all once again slip back into that life of disconnect.  So I have decided to make a commitment to calling and speaking to friends on the phone even when I am feeling too busy or a little uncomfortable about it.  I am making a commitment (not a resolution because I never keep those) to talk more, not text, smile more and to strive to show people I care about them.   I am going to remember what Amy helped me come to truly understand :    I am connected to you; you are connected to me; and we are connected to everything and everyone else.
This Matcha Mochi cake was the last cake Amy made when she visited us so I wanted to share with you and preserve that memory here.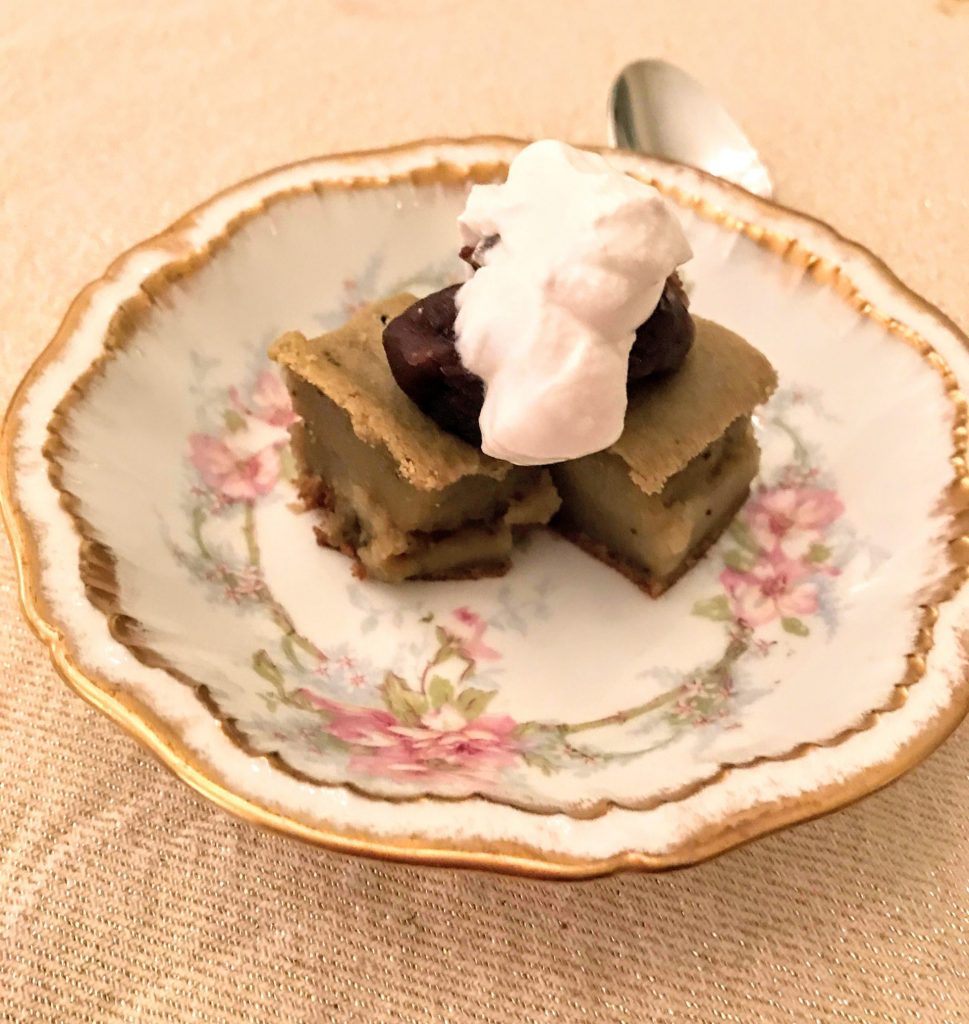 Sweet glutinous rice flour gives a sponge-cake like feel to this sensational matcha green tea flavored dessert.  This is the same flour used to make mochi desserts so if you are a fan of those delightfully squishy cakes you will not be able to stop with one piece of this cake. I say that from first hand experience.
Honestly, today was the 4th time in the last 2 months that I made this cake and it is not only because I was testing it.  We love the flavor, we love the texture, and I love that it's so easy to make!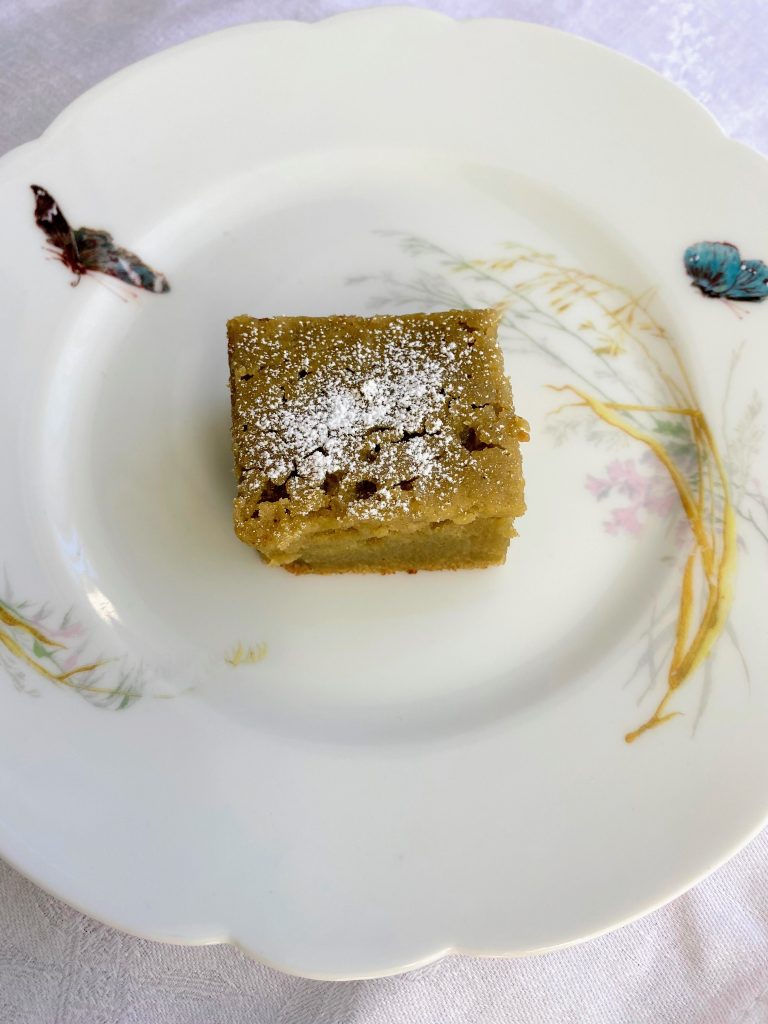 The package of flour says glutinous but this refers to the texture, not the protein gluten that causes allergic reactions in some people.  Glutinous rice is truly gluten free so don't worry about indulging in as much Matcha Mochi Cake as you like, even if your diet is gluten-free.  There are different types of rice flour though so it is important that you pay attention when buying the right flour to make this cake.
The 2 most common types of rice flour are white rice flour and sweet glutinous rice flour.  The sweet glutinous rice flour results in a sticky spongey consistency and that is what we are looking for in this cake.  You may see sweet rice flour (without the word glutinous) and this is the same as sweet glutinous rice flour.
I would love for you to give Amy's cake a try one day soon and when you do, call someone you would like to make a connection with and share a slice with them.
Matcha Mochi Sponge Cake
Taster Beware: You will not be able to stop with just one piece of this highly addictive cake!
Ingredients
4T melted butter
3/4 c granulated sugar
2 large eggs
1 t vanilla extract
1 c mochiko flour (sweet rice flour )
1 T matcha powder
1 t baking powder
3/4 (6 oz) c milk or evaporated milk
1 c (8 oz) coconut milk
Directions
Step 1

Preheat oven to 350°and grease the bottom of a 9 x 9 baking dish or similar size dish and set aside

Step 2

In medium bowl mix the melted butter, sugar and vanilla to combine then add 1 egg at a time stirring well after each addition. The mixture should become fluffy and golden yellow

Step 3

In a separate bowl sift together the dry ingredients, then pour the dry ingredients in with wet and mix well to combine

Step 4

Pour in the whole milk and coconut milk into the batter and mix with wooden spoon until smooth. Batter will be thin. Pour batter into the prepared dish and bake for 40-50 minutes or until set and toothpick comes out clean

Step 5

Sprinkle with powdered sugar or top with sweetened red bean paste then serve either warm or room temperature
Items you may need need to make this recipe: