Fall brings a bountiful variety of mushrooms
Nothing screams "Japan" like a shiitake mushroom.  Shiitake's are probably the best known Japanese mushrooms but there is a plethora of others native to the country that look and taste just as unique.   Shiitake mushrooms are in such demand these days that they are available fresh packaged or dried in Asian markets as well as most traditional grocery stores in the U.S.
Fresh shiitake are large and dark brown with velvety smooth caps and a deep smoky flavor that when cooked compliments both meat and fish. At the market look for thick, firm caps, when they start to curl or the cap is flared and floppy the 'shroom has passed its prime.  Any mushroom you are prepared to purchase should be dry and blemish free.
I was surprised to learn recently that shiitake's are cultivated in the U.S. That explained the slight difference I had noticed from time to time but never thought hard enough about. The shiitake mushrooms cultivated in the U.S. have rounder fuller caps and are lighter brown than those from Japan but there is no discernible difference in flavor or usage.
Before living in Japan I thought a mushroom was a soft squishy brown thing that tasted somewhat metallic. Not at all appealing and not anything I was interested in exploring further.  I had no experience beyond the canned variety my mother added to pizza on occasion. I was so naive.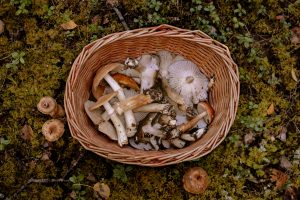 Shiitake, enoki, maitake and shimeji mushrooms are all very commonly used in Japanese cooking and can be purchased in the States. The different varieties of mushrooms come in a variety of shapes and colors and so add wonderful color contrast and interesting textures to soups, salads and entrees.
For the mushroom sauté recipe below, if you can't find shiitakes use white button or brown crimini in their place. I would not recommend using portobellos, although these are commonly found in markets,  I find the flavor too strong and overpowering as a substitute in many cases. Portobellos are very meaty and flavorful so excellent to use to replace meat in a pasta sauce or in a veggie sandwich.  Suitable in a stand alone dish but not to replace another variety in a  soup or sauté.
Don't be tempted to pick any of those wild fungi growing in your yard or the neighborhood park and put them to use.   Some mushrooms are indeed poisonous and may resemble something you have safely eaten before but will make you very sick, or in rare cases prove deadly.
To store:  Fresh mushrooms can be stored in a paper bag in the fridge unwashed for about 3 days, unwashed. Dried mushrooms should be stored in their original packaging or a glass jar sealed from moisture and kept away from light.
To clean:    Wipe them with a damp paper towel before slicing or cooking the mushrooms to remove debris.  Many mushrooms, at least in the U.S., are grown indoors and so are dirt free when purchased packaged in the grocery store.
Dried mushrooms   Steep in water, stems and all, for at least 15 minutes but the longer the better, then slice for stew, soup or sauté discarding the stems. Keep the water and use it to boost the flavor of whatever you are making or save in the fridge or freezer for your next stock, soup or broth.
Go out out on a limb and challenge yourself to try something new.  This quick and simple side dish will shine new light on this jewel of the forest.  Don't forget to tell me what you think by leaving a comment below,  I can't wait to hear from you!
Shiitake Mushroom Mix Sauté
Ingredients
5oz. shiitake (6-8 mushrooms) stemmed and sliced 1/4 inch thick(throw away stems)
2 cloves garlic. minced
2 green onion, chopped or sliced
1 T avocado oil
1T butter
splash sake white wine
Directions
Step 1

Heat both butter and oil to high in large sauté pan

Step 2

Add shiitake to pan and cook one side to brown than turn or shake and stir mushrooms to brown the other side, about 2-3 minutes each side

Step 3

Add garlic to pan and cook til fragrant about 30 seconds then remove mushroom mixture to plate.

Step 4

Add green onion to hot pan then splash of sake, white wine and sauté onions 30 seconds and pour over mushrooms