Mother's Day won't be the same this year but…
make this for Mom next time you see her and there is no doubt you will be "the favorite child."
What is great about Sea Scallops besides their succulent flavor?
They just may be the quickest cooking meal on the planet.
I am not referring to the tiny bay scallops you may find in one of your typical pasta dishes.  Do not attempt to make this recipe with the bay scallops even if that is all you can find – it just won't be the same. Sea scallops are LARGE.
For this dish it has got to be the large robust and more flavorful sea scallops.  Bay scallops should not be seared.  They surely are quick cooking too but the flavor and texture of the bay scallops cannot even come close to the sea scallop.  I consider ordering the sea scallops, if they appear on a fine dining menu, long before the filet mignon. In my opinion they are truly the perfect meal.  Low in calories.  The portion size is usually smaller compared to other menu options but I feel completely full and satisfied after eating an entree of sea scallops and healthy to boot.
Scallops are one of the most popular seafood choices due to the unique texture and succulent nature of this particular shellfish. I for one totally understand why people love them so much.  It is so satisfying to sink your teeth into this delicately tender almost filet-like morsel from the sea.  For something so small they are healthier than you might think.
In one 3 ounce serving there is only 95 calories yet because scallops are 90% protein you get 20 grams in each of those servings.   1 large scallop could possibly weigh about 1 ounce so by eating 3 for dinner you feel pretty full and satisfied after the meal.
Like many other types of seafood this shellfish is high in Omega 3 fatty acids. Providing 333mg in a 3 ounce serving that falls in right in line with the recommended daily allowance range between 250-500mg per day. We are cooking them in butter so there is going to be additional calories from that but it won't come anywhere near those in your filet of beef.
Additionally scallops are a good source of minerals such as magnesium and potassium so good for your brain as well as your heart.   If you have not yet tried sea scallops,  do yourself a favor and pick up a pound in the frozen food section and give this simple recipe a try.   Do be attentive though because shellfish cause many people an allergic reaction.
Give this recipe a try as soon as you can get out to shop for scallops and next time Mom comes for dinner show her what you can do.  Let me know when you become the favorite!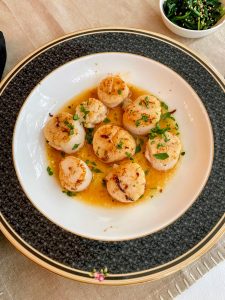 Seared Sea Scallops in Buttery Sriracha Glaze
Scrumptious scallops quickly seared to preserve delicate fresh flavor and drizzled with light wine & butter glaze with a hint of Sriracha
Ingredients
12 oz Sea Scallops
Salt and pepper
2 T avocado oil
1 T Butter
3 T dry white wine or chicken broth
1 t Sriracha sauce
squeeze from 1/4 lemon
2 T parsley, chopped
Directions
Step 1

Thaw scallops if frozen. Rinse under cold water and dry with paper towel then salt and pepper lightly and set aside.

Step 2

Heat sauté pan to high heat (non stick works well) when pan is very hot add 2 T oil and butter. Place scallops in pan but do not overcrowd. You may need to cook in batches

Step 3

Sear one side without moving for 2 minutes than turn each scallop carefully with a small spatula and sear the other side 1-2 minutes depending on size.

Step 4

Remove scallops to a plate and repeat until all scallops are nicely caramel color and opaque

Step 5

Deglaze the pan with the wine/broth and scrape any bits from the pan at same time add Sriracha to taste then pour sauce over scallops

Step 6

Sprinkle with parsley, squeeze of lemon and serve with couscous or rice