Say Yes to Veggie Pancakes
Yes, you need a food processor.  A vegetable grater will work or buy shredded potatoes if you must.
Yes, these are quick and easy.
On one of the first trips out of the house since restrictions have eased we ventured to the weekend farmer's market and I bought huge zucchinis.  Just like mom used to do.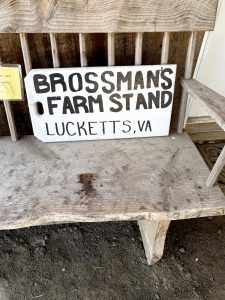 I made zucchini bread, of course, and after 3 regular sized loaves 5 small loaves and a dozen zucchini muffins, I still had several cups of shredded zucchini left.
Cooking tip:  shredded zucchini goes a looong way.  When considering what do do with the rest, it occurred to me that Mia has been shredding potatoes for hash browns so why not add the zucchini with the potatoes and make  veggie patties?
I am really getting into the challenge of cooking vegetarian.  Our family is not completely vegetarian only my oldest daughter, Mia.  She is willing to cook for herself because she realizes no one else follows the same food "rules" as she, but I try to at least to make our dinners something she can eat too. At least 1 thing she can eat and thankfully she does not eat all that much.
You may be thinking,  Kate must really love squishing things into patties. I might agree, it appears as if I do. I look back at my posts and see I have a lot of recipes where I have created some sort of patty- salmon patty, crab cakes  and my all-time favorite croquettes.
The are a number of reasons why I do this so often.  Mainly, patties are easy and quick, you just form a mixture of the key ingredients and shape it into a patty.  I mean, anyone can do that.  The versatility factor is another great reason to love patties. You can make just about anything into a patty.  For a quick meal, put the patties on a bun and use your hands  or on a plate with a side salad for a more formal meal.  And every patty loves condiments and that makes Ken happy.
Who would have thought they would be so amazing?
These are the ultimate griddle cakes; Ideal for preparing on stove in a frying pan or a hot griddle set right up at the table for a family and guests.  This is a popular way of eating in many Asian countries, think Benihana or Korean BBQ restaurant.
Ken really loved these veggie pancakes because they reminded him of okonomiyaki, a favorite lunch growing up in Japan. Okonomiyaki may be made using a simple flour and batter like my potato & zucchini cakes or, perhaps the more popular and more filling version which includes noodles and cabbage as the base.  Once you have the batter anything goes as far as garnish and toppings.
These "As you like it" pancakes are wonderful because you determine the size of your snack or meal and you have total control of what goes inside.  You make them to satisfy your unique taste.  Add shrimp or scallops and herbs or, maybe you like ham and shredded cheese with a little chopped green onion.
Our simple vegetable version was delicious.  Once we added sauce and garnish they were perfect.  When it comes to sauce and garnish the same "anything goes" attitude is true.  There is actual okonomiyaki sauce but we were out so I used Bulldog sauce and Kewpie mayonnaise.  Your choice of sauce depends on your garnish and likewise your choice of toppings.  Ken topped his veggie pancake with shredded seaweed and loved it!
There is no right or wrong ingredient for these pancakes.
Here are a few non-vegetarian garnish suggestions:
shrimp, raw or cooked
crumbled sausage
ham
bacon
Topping suggestions:
parsley
basil
seaweed, shredded or crumbled
pickled ginger
Sauce suggestion:
Bulldog sauce
Mayo
Ketchup
Okonomiyaki sauce
Worcestershire sauce
Lemon
Give this simple veggie pancake a try and be sure to send me  picture of yours the way you like it.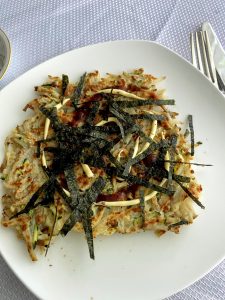 Shredded Potato & Zucchini Pancake
A perfectly satisfying meal
Ingredients
1 large russet potato ( 2 cups)
1 medium zucchini (1 cup)
1/4 c white onion, thinly sliced
2 eggs, lightly beaten
1/4 c breadcrumbs
2-3 T flour
salt and pepper
Directions
Step 1

Use a food processor to shred first the potato (leave skin on) then the zucchini

Step 2

In medium bowl combine the vegetables and use clean dish towel or paper towel to squeeze excess water from the veggie shreds. Add onion and eggs and stir well to coat

Step 3

Add breadcrumbs and flour and mix batter well to combine

Step 4

Heat oil in large sauté pan to medium high then add about 3/4 cup batter or smaller depending on your preference and size of griddle/pan. Pancake will be about 6 inch diameter. Cook 2- 3 minutes to brown one side then use spatula to flip and brown the other side 2-3 minutes.  Serve and top with your favorite condiments
Items for your grocery list: