It's that grilling time of year.
I never buy teriyaki sauce.  It is very easy to make and made from scratch is so much better tasting  than anything you have bought in the store. I guarantee it!  It seems like I have said something along those lines in a previous post but it is not uncommon for me to have to  repeat  myself.  I am a mom after all and repeating ourselves is a must.    It takes at least 3 times to get any sort of reaction.  Am I right?
Since this blog is about food I will stop there.
Teriyaki chicken is another family favorite but it may not be a hit with readers only because it really is best with chicken thighs and I think a lot of people have an aversion to thighs.  Many folks prefer breasts…  Remember we are talking about chicken here.
Actually, it may be more accurate to say I think a lot of Americans have an aversion to chicken thighs because they seem to be less healthy than the white meat of the breast.  I see thighs used more often than in Asian food and that is because they are more flavorful and the fatty and that impacts that the sauces.  I have tried this with chicken breast and it was not as flavorful.  If you prefer using  breast meat, you should cut the breast into 2 or 3  pieces to allow the marinade to do its magic.
They are perfect together.
I always serve the teriyaki chicken with my homemade coleslaw.  
The simplicity of the freshly cut cabbage and herbs pairs well with the sweet smokey teriyaki glazed chicken.   Your taste buds will be so happy.
Make sure you  buy more chicken than you need for dinner because the leftovers are AMAZING.   The next day you may want a repeat of the same meal or reheat and slice up the chicken for bbq sandwiches with that coleslaw on top.  To reheat the leftover chicken you can put the whole thigh in a frying pan on low heat for about 10 minutes turning halfway or slice the chicken into strips for quicker cooking  for a nice warm teriyaki sandwich and put that coleslaw on top!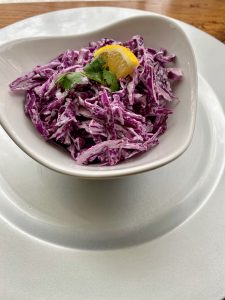 The 2 main ingredients for the marinade  are soy sauce and  brown sugar.  When it comes to the sugar either the  light brown sugar  or dark work  great; however, I have begun to use dark brown sugar in all my recipes because it seems to add a touch more caramel flavor to the food.  Dark brown sugar in this  teriyaki sauces turns into a beautiful glazed mahogany color once grilled.  Enjoy!
Make your own teriyaki sauce tonight and be sure to leave me comment to let me know you loved it.
Grilled Teriyaki BBQ Chicken
Ingredients
8-10 chicken thighs
Marinade: 1/2 c soy sauce
1/2 c brown sugar
6 garlic cloves chopped
2 T fresh lime juice
1 t red crushed red pepper flakes(optional)
Directions
Step 1

Combine soy sauce and sugar in a jar with lid or medium bowl and shake or stir until  sugar dissolves. Add a little hot water if needed. Then add the remaining sauce ingredients to jar and set aside.

Step 2

Rinse chicken thighs, pat dry and trim any skin from thighs. Place into large baking dish or a plastic bag and pour marinade over the chicken and turn to coat well. Marinate in refrigerator at least 6 hours or overnight turning  the pieces over once or twice while marinating

Step 3

Prepare charcoal  or gas grill and cook about 7 minutes each side or until no pink remains and juices run clear when pricked. Cook time depends on size of thighs and cooking method. Cook til nicely browned and to partially blackened to your taste just be sure juices run clear when pricked with fork through thickest part of meat