We had to go to the Sugar Factory.  At least that was what I was told.
My daughter had a birthday coming up and her friends were expecting her to top last year's event.  We all new we could not top a weekend in New York City so  I was willing to make the hour drive to Pentagon City Mall to try this trendy place on her bucket list. The day trip was  planned  on a day our county schools were closed and we set off with a car load her friends.   She had tried to explain the concept to me but I had no idea what to expect except that there would be lots of sugar involved.
We arrived about noon and since it was a school day for most,  we were the first customers for lunch.     We were there for the signature  smoking drinks, made so by the addition of dry ice.  Once we were seated the girls eagerly browsed the fruity selection of enormous beverage concoctions.  The drinks are so large they have a warning on the menu that no less than 2 people should drink one of them.  We decided to share 2 among the 8 of us and they settled on the passion punch and the raspberry watermelon mojito, non-alcoholic of course.
I was interested in trying some of the food here but the   size of the sandwiches shown on the menu appeared as if they should have a warning on them too so  I opted for a couple of appetizers to share. We agreed on the spinach artichoke dip served with slices of baguette and the sampler platter which included a couple of wings, couple chicken tenders and a couple mac n cheese pops, which sounded really interesting.
Honestly you  could spend an afternoon just exploring  the menu at this place. It's over 20 pages!
We were the only people there so drinks came very fast and the girl's were suitably impressed by the smokey show and began sampling and snapping pictures of themselves with the famed drinks.
Appetizers were delivered shortly after the drinks and we all dug in…
The spinach artichoke dip bowl was huge, much as you would expect by now.   We all tried it. Well, most of us did.  There were not enough baguette slices to go around.      Ratio of dip to bread was tremendously unbalanced.  I was forced to order more bread for an additional $2.00 charge.  We dipped more bread and even double dipped and there was still a considerable amount of spinach dip left in the bowl.  I hate to waste food but we were going shopping next and I was not about  to carry that  dip around the mall in my purse or pay for more bread.
The Sampler Platter was enjoyed by our crowd too.  There were just a couple of pieces of each item so I did not take a sample from  the Sampler but the girls were satisfied and there was not a crumb left.  The most interesting item on the platter, and the reason why I ordered it, was the mac n cheese pop. This was a blob  of mac n cheese covered in breading and deep fried.
Yum!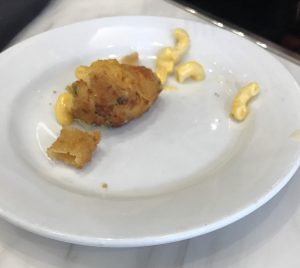 The restaurant was an exciting afternoon lunch experience.  The appetizers we tried were good but nothing special.  Granted there were tons more things on the menu to try but the portion sizes were eye -popping so be sure to go VERY hungry!    For birthdays and other celebrations they provide a list of songs and the wait staff will sing your selected song when they bring your special dessert to the table.     That sounded fun but we were not in the mood for any more sugar from the sugar factory so decided against indulging  in dessert.  The girls enjoyed their drinks but overall we went for the "experience" and not one that I plan to repeat.
Unless, I am told otherwise.