You have got to try this spectacular no-fail cookie recipe. This incredibly easy cookie takes just minutes to prepare and you will no doubt find yourself using this recipe over and over again.
I am never happier than after Halloween has come and gone
My favorite time of year is approaching….  the holiday baking season.  When no one thinks twice about baking cookies,  breads  and cakes on a regular basis. And best yet no one really thinks twice about eating them on a regular basis.
That is what I love most!  None of my family or friends will likely reject my offer of baked goods because they are trying to lose weight, or they really shouldn't, or they had too much Halloween candy.
It's beginning to feel a lot like Christmas
I love the music, the decorations, the cooking, the baking, the shopping, the stress.   The whole enchilada.  I am actually having a bit of a difficult time this year because it has been so warm even into November.   I always find it difficult to get into the spirit of things if it doesn't feel like Christmas is coming.  When we lived in California holidays were just not as fun and it wasn't because we were so far from family and friends, it just did not feel right walking around in shorts and flip flops shopping for Christmas gifts.
I know the season can all be too intense for many folks but here is at least one thing you do not need to fret about. Here is an incredibly easy cookie that is perfect anytime anywhere this holiday season.  In fact, why not make it all year round.  These cookies are simple and just plain yummy!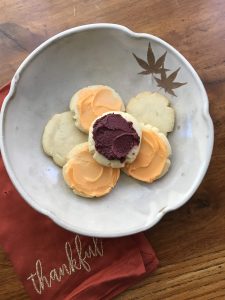 Need a no fail cookie for the Holiday exchange?
Looking to add one more sweet to your Holiday table but don't have a lot of time?
Don't have the time to test something new?
Here is your new go to favorite cookie recipe!
Don't hesitate to try this recipe and tell me what you think.
Easy Shortbread Cookies
Ingredients
1 C butter, softened
2/3 C sugar
1 tsp almond extract
2 c flour
1/4 tsp salt
Buttercream Icing
1/4 C butter
3 C powdered sugar
1 1/2 tsp vanilla
4T milk
Directions
Step 1

Preheat oven to 350

Step 2

Cream butter and sugar together until smooth and fluffy. Add almond extract and stir well

Step 3

Combine flour and salt and then add to butter mixture and stir well to make a smooth dough. Roll dough into 1 inch balls and place onto cookie sheet covered in parchment paper. Flatten the dough using silicone spatula or the bottom of a glass. Be gentle the dough may be a little sticky.  If you have time refrigerate the dough for 15 minutes or so. Bake for 10 minutes or until slightly browned and firm in center when pressed lightly finger.

Step 4

To prepare Buttercream Icing:  Use an electric mixer to cream butter and powdered sugar until smooth. About 3-5 minutes.  Add vanilla extract. Add milk 1 tablespoon at a time to get your preferred consistency