Roasting is one of the easiest and most flavorful methods for cooking vegetables. The high heat brings out the best of  just about any vegetable you choose and each morsel comes out charred on the outside and soft and sweet on the inside.  This simple side dish will turn any entree up a notch and it is the perfect way to pack your plate with healthy vegetables.
I am starting off the New Year simple.  Not going to make resolutions I more than likely will not keep.  I know by now, I am not very good at New Year's resolutions.
I'll be honest, I don't usually make them. I don't make them because I know I won't keep them.   And I don't keep my resolutions because I don't remember that I made one in the first place, but not for the reason you may think.
I am usually asleep when the clock strikes midnight on New Year's Eve, not out overindulging.
Joy and Gratitude
This year I have decided to keep it simple and focus on joy and gratitude.  Focus on bringing more joy into my life and being grateful for that, as well as giving more joy and showing more gratitude toward others.
Along the lines of keeping it simple, I want to share the easiest recipe I could think of.  Maybe a boiled egg is easier, no, make that toast!  Eggs have their own complications but roasting veggies is as easy as toast.
Bring on the Root Vegetables
Roasting root vegetables caramelizes the outside which gives the once crunchy veggie a soft sweet taste.  Almost any veggie can be roasted, just beware that some of the green ones tend to lose their color after just a few minutes.  But the wonderful charred blackened bits will impart a little richness to the dish.
Experiment with different vegetables and I think you will find that most, if not all, taste absolutely delicious even though the color may not be as vibrant.
I have not found one yet I do not like.  Joy and Gratitude, right?
What I love about roasting vegetables and rainbow carrots in particular is that there is no need to dress them up.  No need for special sauces.  They are superbly satisfying with a little oil mixed with salt and pepper.  That's it!
Roasting vegetables is contemporary cooking at it's very best; Super easy prep work and the results are a low fat and high flavor dish.
We eat loads of roasted veggies all year round, cauliflower and carrots probably being the most popular in our house.  I never worry about making too much because they compliment all sorts of entrees and I am able to use the leftovers in so many different ways they never go to waste.
Turnips, Parsnips, Potatoes, Hurray!
Bring on the cauliflower, beets and radishes too!  Combining vegetables for a roasted medley can turn a simple dish into something a little more dramatic.  Be sure to choose veggies that have somewhat similar characteristics and cooking time and then cut them in a similar fashion.
Toss them with the oil and season with salt and pepper, line the tray and pop them in the oven. Finish preparing the rest of the meal while you dream about the intensely concentrated flavor of each yummy morsel.  Once you hear the fire alarm then you know they are done.  Well, maybe that only happens in this house.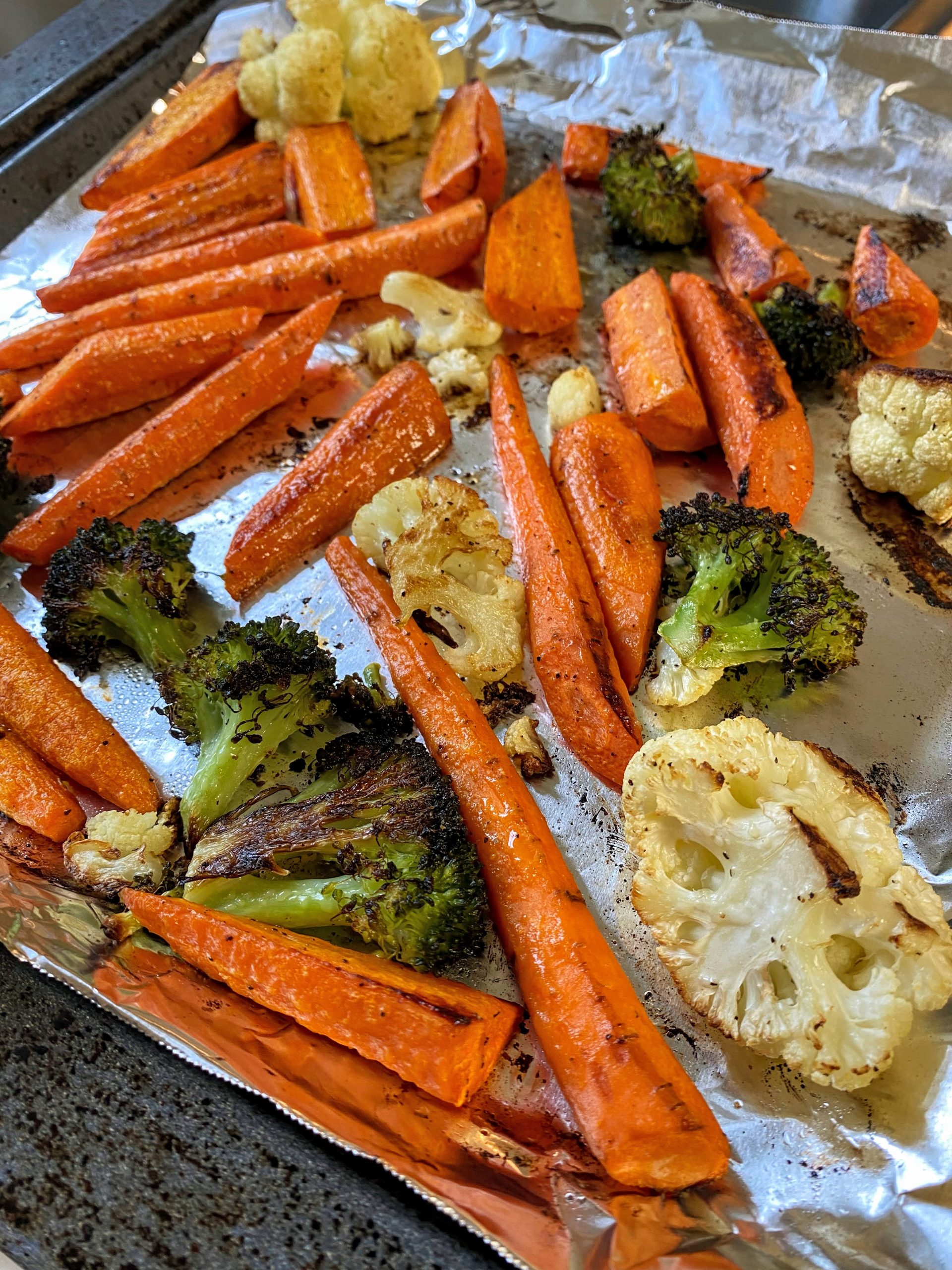 Roasted Vegetables – Carrots, Cauliflower and BroccoliTips for Roasting Vegetables:
Use heavy pan- a roasting pan or sturdy jelly roll pan
Cut vegetables to similar size and spread in single layer
For easy clean up line your pan with foil coated in cooking spray
This year I plan to concentrate on finding joy in the simplicity of life. No big changes, just grateful for who I am, where I am now, and for the things I already have in my life.
Want to share your focus for 2023? Write to me in the comment section below this recipe.  I would love to hear from you.
All you need for this recipe:
Roasting pan or jelly roll pan  with 1″ sides
Veggie Suggestions:  Carrots, Cauliflower, Asparagus, Sweet Potato, Turnip, Butternut Squash
This post may contain affiliate links. As an Amazon Associate I may earn with qualifying purchases, please see my disclosure statement for more details.
Roasted Rainbow Carrot Medley

Roasting carrots brings out the sweet earthy taste of these root vegetables. Combine carrots with almost any of you favorite veggies and serve up this delicious side dish to compliment any entree.

Ingredients

1 lb carrots
1 med. onion, quartered
3 T avocado oil
S + P to taste

Directions

Step 1

Preheat oven 400

Step 2

Peel carrots  then place all vegetables in large bowl. Mix vegetables with oil and salt and pepper to your taste.

Step 3

Spread in single layer over a large roasting pan and roast for approximately 15 minutes then remove from oven and carefully turn over and roast approximately 15 mins. Cook time depends on size of vegetables.