Traveling in Japan most times of the year is picturesque, around every corner is a potential postcard worthy scene but the Fall is amazing. Japan in the Fall is truly spectacular. The entire country seems to transform into a perfect movie version of autumnal beauty. 
It turned out to be the perfect trip. I can't think of one thing that could have been better.  Well, there was that incident involving noodles that could have gone better but I've honestly nearly forgotten about it.
Early this year we made tentative plans to visit Japan but as the end of 2022 crept closer we had no clue whether the trip would take place because the country remained closed to most travelers due to restrictive Covid -19 regulations.
When the announcement that travel restrictions would be eased and/or eliminated came in early October we decided the time was right, while things were relatively stable both in the U.S and Japan and made arrangements for the trip.
Flying into Japan is not totally free and clear, but if you have 3 Covid vaccinations  you simply download the MYSOS app, set up your profile and you are on your way.  With the proper vaccinations it is easy to enter; however, the MYSOS app is not the most user friendly and may require focus and extra time to navigate so do not wait til you arrive at the airport to complete this task.
Onboard the plane and upon entering the country we were required to wear masks at all times in public. Just about every restaurant and store had sanitizer front and center and many places were taking temperatures prior to entrance.  They are very serious about keeping the spread of covid at bay.
If you have yet to visit Japan, you may be surprised how clean  and orderly everything is.  Breathtakingly beautiful gardens so clean and exquisitely maintained you have to see it with your own eyes to truly believe it. How do the Japanese people keep the entire country so incredibly clean?
Especially when there are hardly any trash cans to be found.  On public transportation and in public places around Tokyo, at least, you are expected to clean up after yourself and to take your trash home with you and everybody does.  It's astonishing!
"No touch" is a common phrase and what you quickly discover is that almost everything is activated by movement. No need to touch doors or soap bottles or even some toilet seats.  They will open as you approach.
It's a little disconcerting when a toilet is more talented than you.  Japanese toilets are famous for all they can do.   They clean themselves, clean you, warm up the seat, warm up the water that sprays your  "you know what" and its not uncommon to find a toilet that plays music while you are onboard.
And those are just the symbols I was able to read.
One time as I studied the kanji inside the restroom,  things looked slightly different than usual and there was absolutely no English to help.  I became confused and so fearful of accidentally calling an attendant into the restroom rather than flushing, that I fled without doing anything.
I certainly do not want to deter anyone interested in traveling to the Japan due to toilet concerns but as a cautionary tale, be aware that in Japan the flusher is not always affixed to the toilet and on occasion it is not obvious whether to push a button or wave a hand or flush with an actual lever the "old fashioned" way.
I guess that's enough about Japanese toilets.  But they definitely should be added to your bucket list.
There are plenty of other famous things to see and experience while traveling in Japan besides toilets.  We were lucky to find an airbnb in the very popular Shibuya area probably because we were among the first foreign travelers due to lengthy closures the  rates for accommodations were very reasonable.
In Shibuya, Hachiko statue is a common gathering place outside the station and the famous "Shibuya Scramble" intersection always draws huge crowds but the extensive construction in and around the station made things very confusing. Thank goodness I was traveling with an expert on that very area.
Lots has changed over the years but Ken was able to navigate the train system expertly everywhere we went especially Shibuya where he spent a lot of time as a teen.
Don't worry though, you don't need Ken, although he may like to join you as a personal guide if you ask him. The public train system uses Japanese and 3 other major languages, including English, on all written signs and announcements.  The self serve kiosks are available in English and many many customer facing retail and restaurant workers  speak some English.
We were thrilled to be treated to seats at a Kabuki theater production. At least I was thrilled, I can't really say for sure that Ken was feeling that emotion.  The production was in Japanese only and 4 hours  (2 intermissions) total so by the end I think we had both nodded off at least once.
Perhaps even more thrilling was to be able to attend Ken's uncle's 80th birthday. At 80, Uncle Shig is in great health and fine spirits, he is fun to be around and fun loving.  We were pleased to be able to share in this milestone celebration with the rest of the family at a Chinese restaurant, believe it or not.   When you are lucky enough to reach 80 the celebrant wears gold/yellow and these colors are supposed to bring good luck.
We were spoiled in so many ways by family I could write 2-3 more blogs on those events but one more highlight was the Fall themed Omakase dining experience that Aunt Nobuko and Uncle Mineyoshi planned.  We met up with them at a restaurant they chose near Shibuya called Shimada's Tailor Shop.  Strange but true.
For many generations it was a family owned tailor shop but the present generation had more interest in food than clothing so they transformed the tailor shop into a restaurant.
At many restaurants in Japan the menu revolves around the season and it is a treat and a gamble if you find one offering the season's best.  A treat because the meal is like a work of art, a gamble because the Chef decides what to serve you and the price may only be revealed at the end of the meal.
We sat in front of the chef as he prepared each dish for us and conversed with him and learned of his many interests outside exquisite cuisine.
He spent his early years as a chef working in Canada and, surprisingly, Roy Rogers to earn extra money.  He is currently spending weekends working on a house. Building his own house with his own hands from the bottom up.  He is working through the process of getting certified to use a bulldozer to dig the foundation.
This Chef of many talents had strong feelings about maintaining close ties to tradition.
His many skills include sewing his own traditional style kimono clothing which he was wearing that evening and carving some of the serving plates and chopsticks he uses in his restaurant.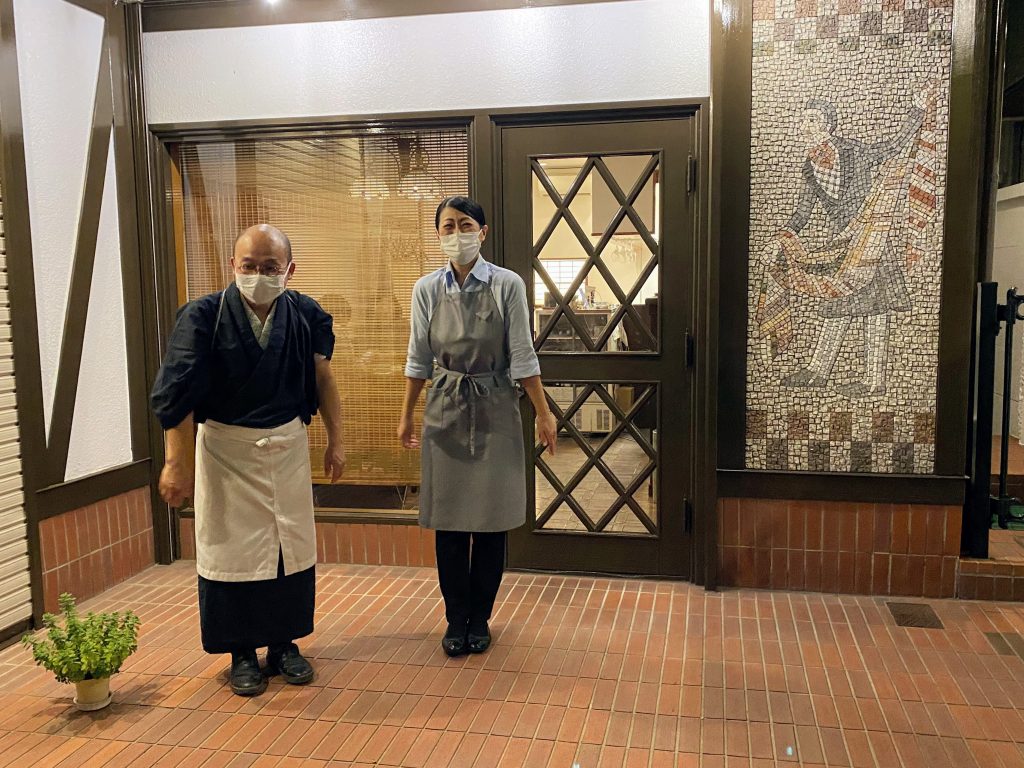 The meal was a joy and a once in a lifetime experience I will not forgot.
One of the amazing things travelers look forward to experiencing in Japan is the food.  It is not all about sushi. Contemplating what you will eat on any given day is almost exciting as planning the next tour.
It has been 7 years since our last visit and the last time we were traveling with our teenage children so we had a completely different agenda and our travel itinerary focused on them.  This time we went without an itinerary just a vague plan and desire to go places we had never visited and do things we had never done.  The entire trip was  all wonderfully fluid.
The weather was unseasonably warm and everyday was a great day for sightseeing.  Yippee! We took the bullet train down to Shikoku and I was able to scratch 1 more item off my bucket list (Kabuki was on there too) and tour Himeji Castle. This castle is nicknamed the "White Heron" due to it's stark white color and winged roof.
The tour was fascinating and memorable, mainly, because everyone entering the castle had to remove their shoes first.  You are provided a bag to carry them around while you walk through in your socks.  The polished wood floors are beautifully preserved yet not just a little bit slippery.
Due to the country just recently opening we were able to tour the most popular sites without big crowds and long lines everywhere which was an additional bonus along with the superb weather and the very favorable peak of the dollar.  Like I said it was the perfect trip.
I run into many people with a trip to Japan on their "bucket list"and I run into just as many more who have been once and have a burning desire to go back.  You gotta go and visit. Order a guidebook and read about Japan and discover the city or island which suits your travel needs best.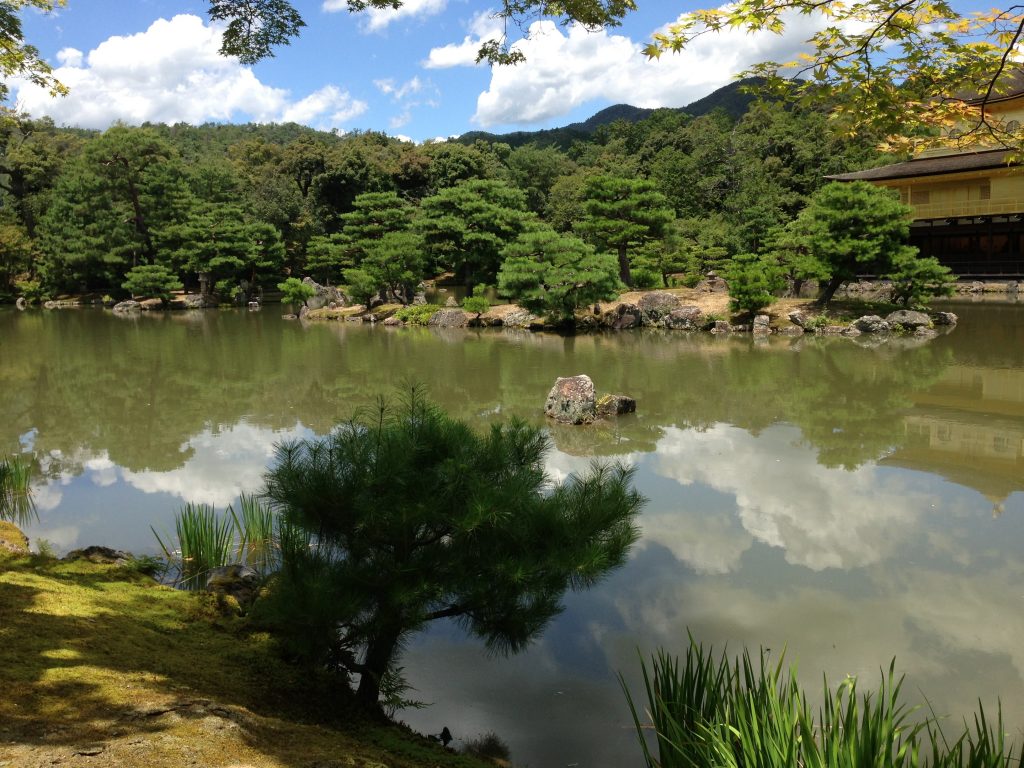 The natural beauty of the islands that make up Japan takes your breath away. The Japanese people are among the kindest I have met.  The food is phenomenal everywhere you go, even the local  7-11 convenience store has a wide range of great tasting healthy options.
If visiting Japan is not already on your bucket list,  I highly recommend adding it.  Be sure to let me know when you are ready to go and maybe I can give you a few travel tips.