A wonderfully entertaining book that will help you discover the true nature of joy and how we can bring more of it into our lives.  The Book of Joy is a collaboration between two great spiritual leaders, His Holiness the Dalai Lama and Archbishop Desmond Tutu, where they explore the elusive subject from every angle and offer practical advice for all to achieve a higher level of happiness. 
It's a food blog.
I know, but it's my food blog and I LOVE books and this one is at the top of my list of favorites so today I have a book recommendation for you.
One day while browsing at the library I came upon a book titled,  The Book of Joy: Lasting Happiness in a Changing World  and I could not pass it up. Who on earth would?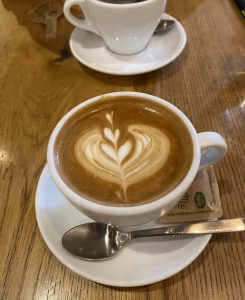 I took it home and began to read and just could not put it down.
It is not a newly published book, in fact, Archbishop Desmond Tutu has since passed away; however, the subject matter will always be relevant.  Truthfully, I was a little taken aback at how appropriate some of the topics of discussion were and flipped back to double check the date of publication(2016).
Bringing more joy into one's life can hardly go out of style. Especially during times of war and hardship most people struggle to come to grips with how we can maintain our own happiness when people around the world are in crisis. The teachings and daily practices found in this book may help you achieve a healthier more fulfilling state of mind.
What I found most compelling was the obvious affection these 2 great spiritual leaders felt toward each other.  The respect and love for each other as well as their genuine desire to serve people from every walk of life comes through page after page.
It is not a religious book.
It's an Invitation to Joy
Enter the journey led by two of the most compassionate men on earth on their quest to understand joy and overcome the obstacles to achieving more joy in life.  The book brings together the insight and experiences of both leaders with the latest scientific research on the subject. The author cleverly weaves together their traditions and teachings, the most recent Science, and their personal stories so well you feel like you are in the room with them.
If you are not inspired to read this book despite my encouragement, yet still wish to be happier, there are things you can do immediately.  According to a study done at Harvard Business School and research by Yale University Professor and Psychologist, Laurie Santos,   there are scientifically proven activities to help you become a happier person.
Things you can do to be happier
Spend time doing things you enjoy:
Play with your pet
Read a book
Dance around the house
Sing while you work
Cook!
Sleep more: 7-8 hours per night is average for an adult
Exercise: even just a moderate amount releases chemicals in the brain that improve your mood
Diversify your social circle – diversity in your social interactions leads to increased happiness:
Call up or Zoom with an old friend and renew the friendship
Chat with a stranger at the grocery store
Join a hobby club
Spend more time in Nature
Start a Gratitude Journal:  Spend 5 -10 minutes a day reflecting on things you are grateful for
Now is the time!  Go ahead and get started to push the needle toward being a happier human.
I encourage you to add 1 or more of these exercises to your daily or weekly routine and strongly encourage you to go to the library ( just walking in brings me joy) and check out The Book of Joy.    It will make you laugh out loud and smile while you turn the pages.  It may even expand your mind and enrich your heart.
No recipe today but I would love to hear how you find joy in life or how you plan to bring more into your life.  Take a minute to send me your comments below.
This post contains affiliate links. As an Amazon Associate I earn from qualifying purchases. Read my disclosure statement for details