Pizza! Pizza!
Next time you are craving pizza for dinner, before you pick up the phone to call your local pizzeria try this  super easy Upside Down Pizza.  Brown the ground beef, add sauce, layer mozzarella over it, top with store bought crescent rolls and bake.   That is all it takes to make dinner tonight.
Who doesn't love pizza any way shape or form?
Dinner doesn't get any easier. Except for placing an order for a large pizza, but aren't you sick of that same old pizzaria?
I love this recipe for its simplicity. It's quick. It's mostly homemade and tastes sooo good.  I know you are gonna love it too, so put down the phone and open up the fridge.  I bet you have all the ingredients for this recipe in the house right now.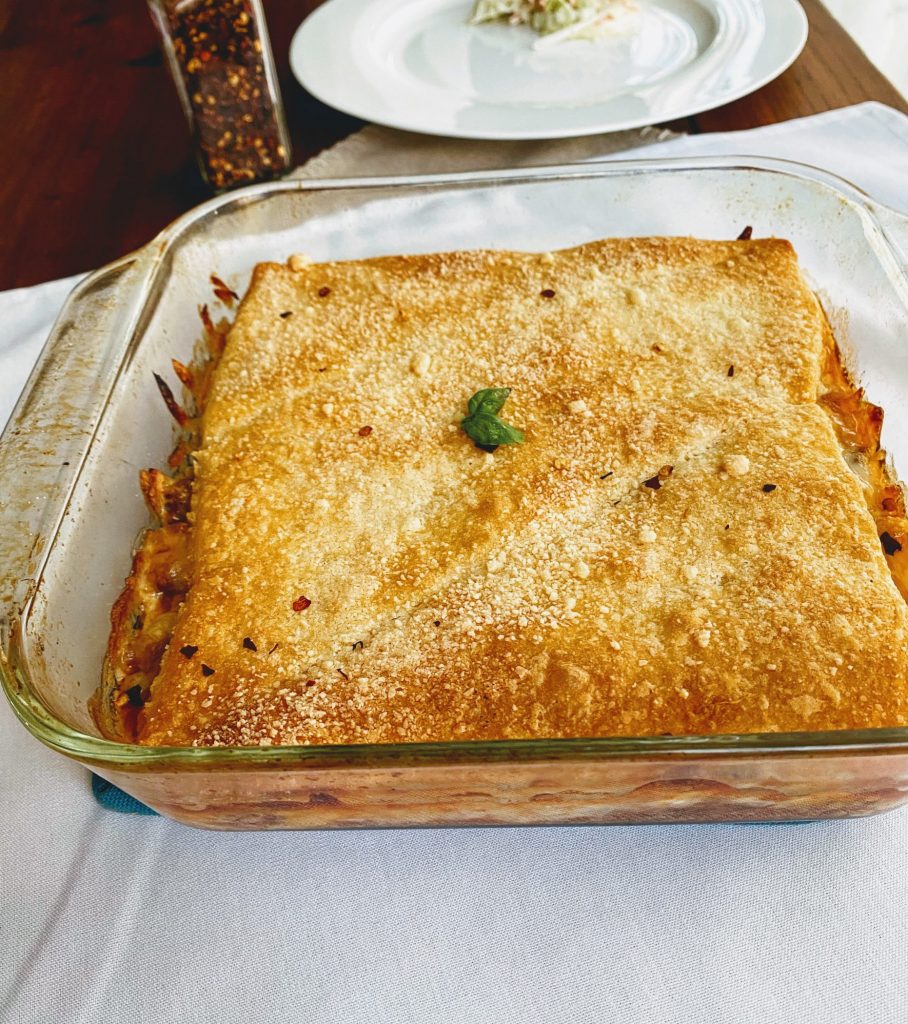 This recipe was submitted to our family cookbook, Around the Table by my cousin Amy R.  I have been adding recipes from the cookbook here on my blog regularly for the more tech savvy generations to come.  I hope to get most, if not all here eventually.  I don't think I will bother with my brother Kevin's Elephant Stew recipe.
Not only are there unique recipes in our family cookbook but it overflows with wisdom, funny family stories, and heartfelt prayers and blessings I like to share too.
Recipe for a Happy Marriage
Combine two loving hearts
Melt into one
Add a lot of love
Mix well with respect and trust
Add gentleness, laughter, faith, hope and joy
Pour in much understanding
(Don't forget patience)
Sprinkle with kisses
and a dash of hugs
Bake for a lifetime
Yields: one happy couple
When I am testing recipes from the family cookbook I try really hard to stick to exactly what was print but that seems to be very difficult for me. It is most often simply for the practical purpose of using up the last bit of something I have in the fridge.  I can't tell you how giddy I get when I finish a container of this or jar of that.  That means I can buy something new to replace it-guilt free.
It might even mean I should go to the grocery store that day! I probably enjoy the grocery store more than most people.
Needless to say, I made just a couple of minor adjustments to the Upside Down Pizza recipe.  I added some diced fresh tomato to the beef mixture and red pepper flakes to the crust, I also decided to cut the ingredients in half to fit in a 8×8 dish. There were only 2 of us for dinner that night and I did not want to be eating Upside Down Pizza for the rest of the week.
Looking for a side dish to go with your pizza? Try my homemade coleslaw for a super easy side. Personally, I like to see a variety of choices when I look down at my plate so it is common for me to make something to go with pizza even though it may seem like you got all the food groups covered.
You can have this dish ready in the time it takes to order and deliver so next time you get that craving for pizza, don't pick up the phone, try my Cousin Amy's recipe for Upside Down Pizza.  Be sure to leave me a comment when you do I love to hear from you.
You may need:
Upside Down Pizza

Quick and easy dinner made from kitchen staples.

Ingredients

2 lbs ground beef
1/4 c onion, sliced thin
1 jar spaghetti sauce
1 c mozzarella, shredded
1/2 c sour cream
8 oz pkg crescent rolls
butter
parmesan cheese, to taste
red pepper flakes(optional)

Directions

Step 1

Brown ground beef and onion and drain the fat.

Step 2

Mix sauce with ground beef and spread evenly over the bottom of a 9×13 baking dish.

Step 3

Layer sour cream over the beef then layer the mozzarella over top of that.  Lay the sheet of crescent rolls over the top.

Step 4

Spread butter over the rolls and sprinkle parmesan cheese and red pepper flakes on top

Step 5

Bake at 375° for 20-30 minutes