Broiled, baked or fried tofu is a staple in Asia for good reason.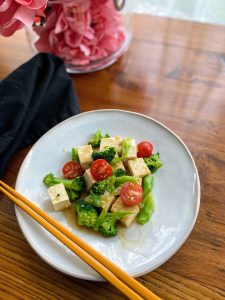 Don't judge a book by it's cover is what my mother always told me and mothers are always right, aren't they?
Get yourself ready to try something new.  If you have not tasted tofu yet, tonight is the night.  I have the perfect tofu stir fry  recipe for you to take the plunge.
Soy beans, and tofu as a by-product of those beans, are considered one of the Super Foods. Foods that are so powerfully beneficial to our health that we should be eating them on a regular.  These days so many Americans suffer from so many health problems we are facing a health crisis.  The food we eat, or more importantly food we don't eat, plays a significant role in the "shape" our bodies are in .
Every person interested in maintaining a healthy body  should be  paying more attention to what they put into their body and focusing on the lifestyle changes necessary to achieve better health. Cut down on the usual suspects- stress, sugar, and time spent immobile in front of a screen.   Introducing Super Foods into your diet, or better yet your entire family's diet, is a great place to start the journey
A few more examples of other foods in this illustrious"super food" group and also for which I have blog recipes are are: avocados, broccoli and edamame, the Japanese name for soy beans.  Avocados are rich in heart healthy monounsaturated fat and ounce for ounce have more potassium than a banana.   You can't make our House Favorite Gaucamole without these delightfully creamy  "vegetable fruits".
Broccoli is part of the cruciferous vegetable family and all members of that family have been proven to be anti- inflammatory and to decrease risk of diabetes as well as some cancers.  That should be enough incentive to go out and get you some cauliflower  or broccoli,  kale or anything form of cabbage.  We love broccoli and so buy it every week, sometimes twice a week because we eat it so often.  One of my girls eats steamed broccoli as a snack!  If you are not quite convinced about tofu but want to start eating better, my Chicken & Broccoli is the perfect place to start.  You can put it together in less than 30 minutes.
Bring tofu into your life, you will not regret it.
The recipe calls for 3/4 block of tofu because that fit in my pan without overcrowding and allowing for a utensil to turn the tofu without mashing everything.  By all means if you have a large enough pan to cook the entire block in one batch I recommend using the whole thing. There should be enough sauce to go around even if you add the rest of the tofu.
To store any remaining tofu put the block in a container and fill it with water enough to cover the tofu entirely and put the lid on tightly. Store in the refrigerator until next use.   The water needs to be changed everyday after to maintain peak freshness.  It will last up to a week when  the water is changed regularly. Tofu should never be frozen.
One bite of the tofu stir fry you will go back for more and start looking for more recipes to include tofu.  It is so versatile and healthy for you,  I strongly encourage you to find more ways to get more soy protein into your diet.
Make tonight the first night toward changing your life for good.  We all gotta start somewhere!
Give this tofu stir fry a go tonight and  send me comment to let me know what you think of this recipe.
Weeknight Tofu & Broccoli Stir Fry
Ingredients
2 T oil for cooking
3/4 block medium firm tofu
2 c broccoli florets
2 green onion, sliced on diagonal
1 clove garlic, chopped
handful cherry tomatoes, halved
Sauce: 1/4 c oyster sauce
1/2 vegetable broth
1/4 water
2 t cornstarch
Directions
Step 1

Set tofu on thickly layered paper towel to drain  (about 20 minutes)

Step 2

Mix up sauce ingredients in a jar and shake vigorously to combine then set aside.

Step 3

Steam broccoli florets in small sauce pan with 1/2″ salted water for 1 minute or until tender enough to insert knife

Step 4

Cut tofu into large  equal size rectangular portions- about 20

Step 5

Heat oil to medium high in 12″ frying pan then add tofu and brown bottom 2-3 minutes then use small spatula and fork or chop sticks to carefully turn over to brown the top.

Step 6

Add chopped garlic and onion and sauté til fragrant about 30 seconds then add broccoli and pour sauce over. Cook for 1 minute longer to allow sauce to thicken then add tomato give it one last stir to distribute sauce evenly

Step 7

Serve with your favorite rice or thick bread.