Say yes to these super quick, super delicious no-bake cookies. They are gluten free too.
So easy, so rich, so divine.
This recipe comes from my family cookbook.  Yes, we have one of those!  I plan to add more and more recipes from Around the Table, the aforementioned Grennan family cookbook.  I would love for this to be a place for all of my extended family to come to eat together, learn together and laugh together from wherever they may be around the globe.  I truly hope everyone will flock to my  blog.
Well, I can hope.
I am one of those people that love to look at and read cookbooks.  I check them out of the library.  I buy them (too) often and sometimes even steal them…  Sorry, Mom.
I come from a very large Catholic family from the Midwest and our family cookbook contains recipes that have been passed down and loved by everyone.  You get the idea.  These are family favorites and we come from the Midwest so think family food, not fancy food.  We are of Irish descent so you will find lots of meat and potatoes type o' meals but we are loving and accepting folk so there is diversity in the down line.   There is some ethnicity in the mix so you can expect things to get "spicy" at times.
Nothing wrong with meat and potatoes in any form.
Call me a food snob if you must, but there are a number of recipes that I do not think I can share here on my blog,  A blog that promotes healthy eating, incorporating real food into your diet and a focus on a natural  lifestyle.  Reading through this wonderful family cookbook, I have come across a number of recipes that include a few ingredients that I do not use and frankly, not even for the sake of the family.  I just don't think I can bring myself to buy Velveeta.  Is that even cheese?  What is Oleo for heaven's sake?  It sounds so much like Oreo it has got to be bad for you.
So for the time being I must leave out those recipes which call for Velveeta and Oleo until I come up with a solution.  Also, I cannot just copy the recipes to the blog without testing and tasting them first so it will take time for me build up the collection, so you will have to practice patience.
Today, I tried these  No Bake Cookies  and was so impressed with the results I could not wait to write about them.   I hope you will find them just as sinfully delicious, or as my Grandma Helen used to say, decadent.   I bet you even have all the ingredients in your cupboard right now so give them a try and don't forget to leave a comment and let me know what you think.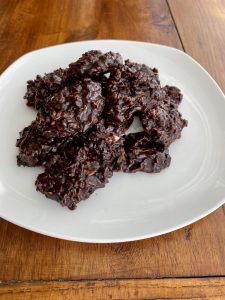 I
No-Bake Chocolate Peanut Butter Cookies
No stove required, These rich, no-bake cookies taste like fudge but include good for you ingredients like oats and coconut.
April 6, 2020

4 Dozen

20 min
Ingredients
sugar
1/2 c milk
1/2 c cocoa
1 stick butter
3 c oats
1 t vanilla
1/4 t salt
1/2 c peanut butter
1/2 c unsweetened coconut (optional)
Directions
Step 1

In medium sauce pan heat sugar, cocoa and milk and bring to a boil. Boil for 2 minutes but watch and stir so bottom does not burn. Turn off heat and stir in

Step 2

oats, butter, salt and vanilla. Mix til fully combined then add peanut butter and mix until fully incorporated. Drop spoonfuls of batter onto baking sheet covered with wax or parchment paper and let cookies set for 20 minutes.