3 Fabulous Fall Baking Inspirations
Here are a few really fabulous fresh ideas to liven up your Fall Holiday table and will satisfy your crowd anytime of the day. Taking advantage of the seasons best offerings, I've got recipes for Cranberry Coffee Cake and Pumpkin muffins  and I've thrown in a Cheesy Sausage Muffin for those searching for a savory snack.
Fresh or frozen cranberries work equally well in the Cranberry Coffee Cake and not only will the mouth watering flavor tempt your taste buds,  but the vivid color of the jewel- like fruit peaking through the crunchy brown sugar topping will make you smile.  Your guests will not want to leave without a copy of the recipe.
It is that time of year – time to heat up the oven and break out the sacks of flour.  Unless, like me, you have had the oven warmed up all through lockdown and in that case it's just the time of year where we give Thanks for the blessings in our lives. One way I show my love and gratitude is by sharing homemade gifts. The recipes below are just a few of the baked items I have shared with family and friends over the years.
Here are 3 fresh ideas your family will love:
Cranberry Sour Cream Coffee Cake'
Cheesy Sausage Muffins
Pumpkin Muffins
These easy sausage muffins come together quickly and they are a great snack you can whip up in minutes and satisfy even those picky eaters. Violá!  You have got a dozen baked hot fresh muffins.   Use precooked mild or spicy ground sausage or chop up cooked breakfast links  and add that to the  batter of these cheesy muffins.
It is really not Thanksgiving without pumpkin in one form or another on or around the table.  I just love the smell of pumpkin spices wafting through the kitchen and throughout the house.  Loaves of pumpkin bread abound in our house this time of year because I often give it as gifts. But the kids really enjoy pumpkin muffins, I suppose it's because they can just pop one into their mouth on the way someplace else.  No slicing or plate or anything needed to eat muffins.
All three of these seasonal recipes are truly superb, but if you need something with a little more intense flavor to satisfy your sweet tooth then you will love my super easy  No Bake Salted Fudge.
Any way you slice it, don't settle for store bought baked goods when you can whip up sweet or savory treats in no time. I know your family and friends will find these sweet snacks rave worthy too.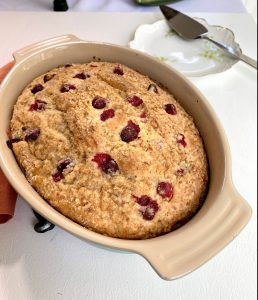 Cranberry Crumb Cake
Perfect combination of fruit and cake topped with loads of crunchy buttery crumbs
November 15, 2020

9-12

1 hr 20 min
Ingredients
1 3/4 c all purpose flour
2 t baking powder
1/2 t salt
1/2 c butter at room temperature
3/4 granulated sugar
zest of 1 orange
2 eggs
1 T vanilla extract
1/2 c sour cream
1 3/4 c cranberries, fresh or frozen
Crumb Topping
1 /2 c all purpose flour
1/3 c granulated sugar
2T brown sugar, packed
pinch of salt
1/4 c cold butter, cut into small cubes
1 T vanilla extract
Directions
Step 1

Preheat oven to 350° and butter a 9 inch baking dish

Step 2

Stir flour, baking powder and salt together in a medium bowl and set aside

Step 3

Cream the butter, sugar and zest together until light and fluffy, about 3 minutes

Step 4

Add eggs one at a time stirring well after each then add vanilla

Step 5

Stir in flour mixture in 3 additions, alternating with the sour cream. Start and finish with the flour.

Step 6

Fold in half the cranberries then spread the batter into the prepared dish. Distribute the remaining cranberries evenly over the top of the cake

Step 7

Assemble the crumb topping by combining all ingredients except vanilla extract in small bowl of a food processor and pulse until the texture turns to coarse crumbs, 3-4 times

Step 8

Add vanilla extract to the crumbs and mix combine well

Step 9

Cover the entire cake with the crumb topping.

Step 10

Bake for 50 minutes, or until golden brown and firm on top
Cheesy Sausage Muffin
Warm breakfast muffins with crumbled sausage and cheese shreds
November 15, 2020

6-8

30 min
Ingredients
1 c mild or spicy ground sausage, cooked and drained
1 c shredded cheddar cheese
2 c flour
1 t baking powder
1/4 t salt
4 T melted butter, cooled slightly
1 c whole milk
1 egg
Directions
Step 1

Preheat oven 375°

Step 2

Grease a 12 cup muffin pan

Step 3

Combine dry ingredients in a medium bowl, add sausage to this mixture then set aside

Step 4

In a small bowl combine milk, egg, butter and whisk briskly then add cheese

Step 5

  Add wet ingredients to dry and mix to combine thoroughly

Step 6

Fill each cup 3/4 full and bake for 15 -20 minutes
Pumpkin Muffins
Ingredients
1 egg
1/2 c milk
1 c canned pumpkin
1/4 c butter, melted
1 1/2 flour
1 1/2 t baking powder
1/2 c sugar
1 t pumpkin spice
1/2 t salt
1/2 c raisins (optional)
Directions
Step 1

Preheat oven to 400°

Step 2

Grease a 12 cup muffin tin or use paper liners

Step 3

In medium bowl, add egg and beat slightly then stir in milk, pumpkin and melted butter. Sift dry ingredients and stir in the pumpkin mixture just until moistened. Batter will be lumpy

Step 4

Fold in the raisins. Pour into greased muffin cups 2/3rds full and bake for 20 minutes.