Fresh baked pizza pie is hand tossed and topped with seasonal and specialty items.  Definitely not your average pizza.  Go for the pizza or the daily loaves of bread and tantalizing bakery items offered at Flour & Water Co., Woodstock Va.
I am going bonkers here while they are working on the house and probably not for reasons you may suspect. I know you will think it's bizarre but I don't know what to do with myself without a kitchen.  I am seriously contemplating borrowing a friend's…
To prepare for life downstairs, I started off in a frenzy of cooking to use what was in the fridge so it would not go to waste.  I made a really yummy leftover casserole from ham, cheese and broccoli  and a simple cauliflower soup thinking these would be easy to reheat in the microwave.
I also made  egg salad for sandwiches using the rest of the fresh eggs. And because I am now addicted to it, plenty of  Homemade Maple & Pecan Granola   to get us through.  As 1 week turned to 2 the fridge is now down to a couple bottles of dressing, a quart of milk(probably stinky) and a few lonely condiments.
We haven't been eating out much because we are simple homebodies but we did enjoy a surprise while visiting my Mother-in-law in the Shenandoah Valley.
We ate unbelievably good pizza at Flour & Water Co. in downtown Woodstock, Va.
Night Out on the Town
We never expected to have such quality pizza in the little town of Woodstock, Va. It actually brought back memories of the pizza we ate on our recent trip to Italy, it was really that good.  We walked out of there saying, "Who would have thought you could get such amazing pizza in Woodstock?"  A random stranger walking past with a pizza box exclaimed, "I know, right?"
The bakery is located in a quaint shop with a lot of curb appeal and adequate outdoor seating on Main Street in the middle of downtown. It is primarily known for their fresh bakery items which are enormous concoctions and plentiful on a daily basis. They recently introduced Wednesday Pizza Nights and have had tremendous success with it and I know why.
It's amazing!
Honestly, the crust is what keeps me going back and wishing every night was Wednesday night.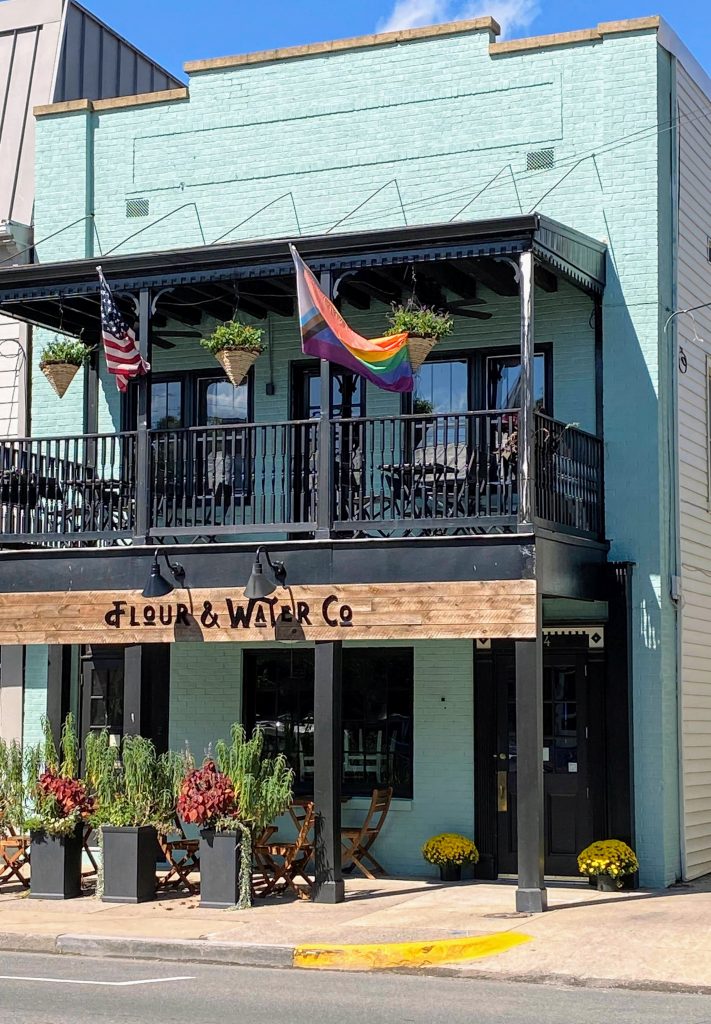 On our first visit, we went with the traditional Margarita and experimented with the French-German version called, Flammkuchen. I have never had German pizza, or French pizza for that matter, and boy have I been missing out.
The Flammkuchen was sensational!  The name is pretty cool too, it translates from German as Flame Cake.
The pie is spread with a white cream sauce and topped with bacon, gruyere cheese and caramelized onions in just the right quantities.  I do not appreciate an overloaded pizza.  I prefer quality over quantity and they are getting it right on Pizza Night at Flour & Water.
We have since been back on 2 more Wednesday nights! I hope my mother-in-law doesn't pick up on the fact that we are only visiting on Wednesdays these days. Oh well, she has come to be fond of pizza night too. Last Wednesday she was pleasantly surprised by the unique and flavorful Seasonal Sweet Corn and Ricotta enhanced with basil and chives and highly recommends it.
If you ever find yourself out in the Shenandoah Valley on a Wednesday night and have a hankering for pizza,  you must make a bee line for Woodstock and line up at the counter of Flour & Water Co.  Buy a loaf of fresh baked bread while you are at it and you will not be disappointed.